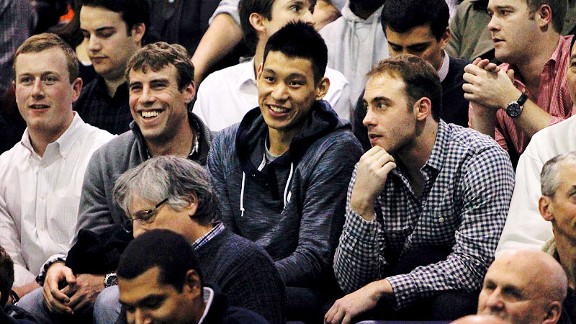 Debby Wong/US Presswire
Jeremy Lin had the chance to check out his alma mater as Harvard took on Columbia.NEW YORK -- With 17:20 remaining in the second half of Harvard's 77-70 overtime victory over upset-minded Columbia on Friday night, the sellout crowd at Levien Gymnasium rose to its feet and began to chant "M-V-P! M-V-P!"
"Linsanity" had arrived.
New York Knicks point guard Jeremy Lin, who had just finished up a team charity event at Chelsea Piers before heading uptown, acknowledged their reaction before sitting in his seat 10 rows behind the Crimson bench, watching as his alma mater kept its hopes of ending a 65-year NCAA Tournament drought alive. Lin didn't show much emotion, applauding clutch plays when he wasn't texting. Spike Lee also attended the game.
It certainly was a heckuva back-and-forth Ivy League affair, but once the final outcome was no longer in doubt, Lin exited with an entourage of security guards and his parents and headed down to the Harvard locker room to offer his sincerest congratulations.
"I just gave him a hug and told him how proud I am of him," said Harvard coach Tommy Amaker, who coached Lin from his sophomore season to his senior year.
"He just told us to 'Bring it home [Saturday at Cornell]. Just pay attention to details and finish up,'" said junior forward Kyle Casey, who played one season with Lin.
"He told us he's going to be watching us and supporting us," said senior forward Keith Wright, who played two seasons with Lin."
Lin may be the toast of the town in the Big Apple, but he certainly hasn't forgotten where he came from. Harvard was willing to take a chance on Lin -- and he flourished given the opportunity, just as he has with the Knicks. In 115 games with the Crimson (2006-10), Lin averaged 12.9 points, 4.3 rebounds, 3.5 assists and 2.0 steals on 48 percent field goal shooting in 29.2 minutes. The rest -- not getting drafted, D-League stints, the cuts, the near cuts, the 25-point, seven-assist breakout performance against the New Jersey Nets and what followed -- of course, is history.
"He's a sensational player. We've known that," Amaker said. "To say that we would've been able to predict this, that's kind of hard for anybody. But one of the things he's been able to do is take advantage of opportunities when he's been afforded them, and I think that's the mark of somebody that's pretty special. He's been able to shine brighter on the big stage when it's been available."
All you need to do is watch a highlight reel of his 38-point night vs. Kobe Bryant and the Los Angeles Lakers and his game-winning 3-pointer with 0.5 seconds left in Toronto against the Raptors and you can see that.
The hype. The celebrity. The moment. None of it has fazed him. None of it.
"This isn't anything new. He's still the same Jeremy Lin I knew when I first got to Harvard. He hasn't changed," said Wright, who added that Lin regularly texts his former teammates. "He's just a genuine person. That's hard to find now-days."
And about all this "Linsanity?"
"I saw an NBA player no matter what," Wright said. "He's worked tremendously hard. Before all the 'Linsanity' started, me and [senior guard] Oliver [McNally], we're all saying, he just needs a chance. He just needs somebody to give him a chance and he'll shine. He's done all the hard work, the easy part is just playing with confidence."
Casey first met Lin during his recruiting visit to Harvard. The two guarded one another during a pickup game with the team.
"I'm sure [his team] won," Casey said. "He got me a lot in our 1-on-1s over that year."
Because Harvard plays on Fridays and Saturdays, the team didn't get to watch many of Lin's best games. But they've certainly been paying attention.
"When he was going off against the Lakers, we tried to get the coach to pull the bus over to watch the end of the game," Casey said.
"He's worked so hard; his dedication and determination toward what he wanted to accomplish personally, I'm happy everything is paying off for him."
Wright said one of his favorite stories with Lin was when the two dressed up as Jackie Chan and Chris Tucker from "Rush Hour" for Halloween.
Who's idea was it?
"Mine," Wright said. "He's not that creative."
But what about the "How to get into Harvard" video that went viral on YouTube?
"That was awesome," Wright said. "It was something to take up his time during the lockout. It was pretty funny."
Amaker and the players are hopeful that they'll get a chance to see Lin play live when the Knicks take on the Boston Celtics on Sunday afternoon at TD Garden.
If not, no big deal.
After all, they've already had the chance to get to know Lin before all the "Linsanity."
"We're thrilled for his success. We're so happy that he's doing what he's doing and how he's handling everything," Amaker said, "just like any other famous alum of Harvard. And to have his name attached to our basketball program [for recruiting purposes], I'm incredibly proud of him."