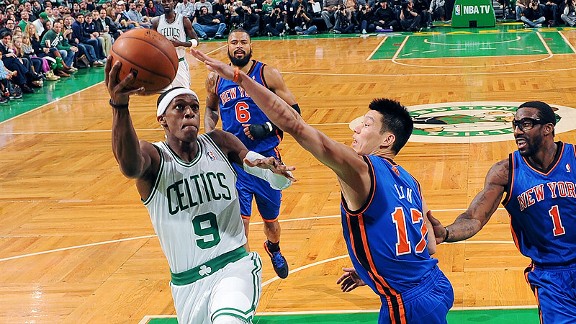 Brian Babineau/NBAE/Getty Images
You don't have to be a Harvard grad to figure out that Rajon Rondo outplayed Jeremy Lin on Sunday.
The math is pretty simple.
Rondo had 18 points, 17 rebounds and 20 assists.
Lin finished with 14 points, four rebounds and five assists. He also had six turnovers.
Advantage: Rondo.
"There aren't many guards, maybe [there are] no guards, who can put up something like that," Lin said of Rondo's line.
He's right.
No one's had at least 17 points, 17 rebounds and 17 assists since Magic Johnson did it in 1989. He had 24 points, 17 assists and 17 rebounds.
Linsanity on ESPNNewYork.com

When it comes to the Knicks' newest sensation, ESPN New York is all-Lin.
Lin: Game By Game

Lindex

No player has had a better line across the board than Rondo's since Wilt Chamberlain had 22 points, 25 rebounds and 21 assists in 1968.
"He's one of the best in the league," Lin said.
Rondo was also best when it mattered most on Sunday: He had five points, five rebounds and two assists in overtime.
He found Ray Allen for an open 3-pointer and a layup in transition. The two baskets gave Boston a 110-105 lead.
Lin, on the other hand, went 1-for-7 with two assists and a steal in the extra frame.
"The thing about Jeremy, he's gonna make some mistakes, and he's got a learning curve," Mike D'Antoni said. "There's no way you can throw him in here … and expect it to be perfect."
Lin struggled in the first half. He was held to just two points and two assists because of foul trouble.
"That's going to hurt your rhythm and momentum," Lin said.
Sunday was the 13th start of Lin's young career. It was his first trip to Boston since Feb. 3 -- the night before Linsanity started.
A reporter asked Lin to compare his last game in Boston -- when he had two points, two fouls and a turnover in seven minutes -- to Sunday afternoon.
"I was a little more comfortable but still not where I want to get to," he said.
It wasn't all bad for Lin against Boston.
He bounced back from a rough first half to score six straight points late in the fourth, helping the Knicks claw back. Lin's layup and 3-pointer on consecutive possessions cut the Celtics' lead to 96-95.
"He's going to be good," D'Antoni said. "It's just a matter of going through some learning experiences."
Consider Sunday one of those learning experiences. And consider Rondo an unforgiving teacher.