DALLAS -- For the fifth and final time this season, the Dallas Mavericks will have a ring ceremony, and this time it will involve one of the big pieces of their 2010-11 championship team: Tyson Chandler, the starting center on last season's squad, will be presented with his ring prior to the Knicks-Mavericks game at American Airlines Center on Tuesday night.
The Mavericks held a ring ceremony on Jan. 25 for the returning players from that title team, and individual ones for Caron Butler, DeShawn Stevenson and Corey Brewer. Peja Stojakovic and J.J. Barea attended the team ceremony.
Mavericks coach Rick Carlisle will say a few words prior to tip-off and give Chandler is ring.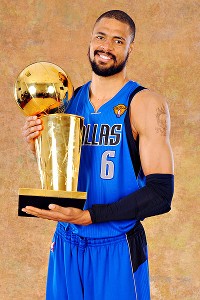 Jesse D. Garrabrant/NBAE/Getty Images
Tyson Chandler helped the Mavs claim the Larry O'Brien Trophy.
"It's been a moment I've been waiting for really since we won," Chandler said Monday.
Monday was the first time Chandler had been in the AAC since the ending of the championship parade through downtown Dallas. The Knicks practiced on the Mavericks' practice court and it brought back some great memories for Chandler.
"Coming back in this gym was an amazing feeling, just remembering the practices we went through to get to the championship," Chandler said. "It brought back a lot of memories and a lot of motivation. ... It's given me motivation for the second half of the season to definitely get my team over the hump."
After that championship season, Chandler expressed a desire to re-sign with the Mavericks, but owner Mark Cuban elected not to offer him a long-term contract. So Chandler signed a four-year deal with the Knicks join to a front line that consisted of Carmelo Anthony and Amare Stoudemire.
Chandler said he's not upset by not playing for the Mavericks and still keeps in contact with several of their players, including Jason Kidd, Dirk Nowitzki and Shawn Marion.
"It was confusing at the time," Chandler said of leaving the Mavs. "Once I became a Knick, I let it all go. I never harbor any [bad] feelings. I understand this is a business at the end of the day. So you can't get frustrated or angry with somebody for making a business decision that they think ultimately is what's best for their franchise, whether or not I think it's right or wrong."
Chandler, who is averaging 11.6 points and a team-leading 9.8 rebounds, is playing through a left wrist injury that requires him to use a pad to minimize the force to his hand; he also tapes his wrist. He's having difficulty grabbing the ball; he fumbled a pass from Jeremy Lin late in Sunday's overtime loss to the Boston Celtics.
Despite their 10-5 surge in February, the Knicks (18-19) are still a sub-.500. team. But Chandler isn't second-guessing his decision to sign with New York.
"No, I just understand [the business]," he said. "I know what it takes to win a championship. At this point, I'm not going back to the early days in my career where I sit around and I don't voice my opinion. I'm going to push my teammates and myself and hopefully at the end of the day it makes us a contender."