DALLAS -- Knicks coach Mike D'Antoni was talking to reporters Tuesday night when forward Carmelo Anthony strolled out of the locker room to the team bus.
Anthony was approached for comment by a reporter about a dismal individual performance, in which the All-Star finished with six points on 2-of-12 shooting.
"Not tonight," was all he offered.
But 10 minutes later, Anthony returned from the bus, wearing sunglasses, and addressed reporters about his play over 30 minutes and where this season is going.
"We lost and losses don't sit well with me," Anthony said after the Knicks' 95-85 defeat to the Mavericks. "We got to get better, that's all."
There were times during the loss where Anthony looked more like a spectator. Point guard Jeremy Lin dribbled while Anthony stood away from the fray in a daze. When Anthony became aggressive, he took the ball to the basket and didn't convert, hoping for a foul that never came.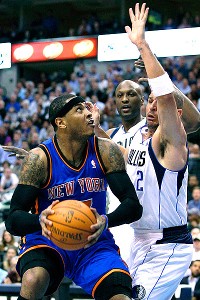 AP Photo/Tony Gutierrez
Carmelo Anthony was ice cold from the floor on Tuesday night.
He sat for a good stretch of the fourth quarter as a second unit mixed with starting power forward Amare Stoudemire brought the Knicks back from a 14-point deficit.
At some point, D'Antoni had to put Anthony back in the game. He did with 3:57 to play and his team down 81-78.
Things began to unravel for the Knicks as Steve Novak missed a 3-pointer and, after he fouled Dirk Nowitzki in the post, two more foul shots pushed the lead to 83-78.
Maybe out of frustration, Anthony quickly fired up a 3-pointer with 3:29 to play, missing badly. Stoudemire grabbed the offensive rebound but Novak missed another jumper. And when Jason Kidd converted a 3-pointer with 3:07 to play, it was time to go home.
"It was just one of [those] nights, and it's frustrating out there when things are not going your way," Anthony said. "You lose a basketball game the way we lost, but you have to take your hat off to Dirk and those guys. They played extremely well especially down the stretch."
Officially, Anthony went 0-for-4 in the second half and took one attempt in the fourth quarter. In the early part of the game, Stoudemire became the focal point of the offense in the post as the Mavericks doubled Lin to force a quick pass and get the Knicks out of their game plan.
"I think right now, it's just trying to find the right spots," Anthony said. "The rhythm. Tonight in that second half we were going to Amare and he had it going early. We just were looking for that and we wanted to exploit that."
The six points was his lowest point total since a two-point effort on Feb. 6. But he had an excuse. He strained his right groin six minutes into the game.
Still, the Knicks could use more of Anthony. But for whatever reason, the team can't find an offensive flow with all the new parts being used by D'Antoni.
Lin is trying to figure things out as a young point guard, and this current stretch of games has him facing some of the best point guard in the league. On Tuesday night he battled a future Hall of Famer, Jason Kidd.
"Dealing with double teams," Lin said of the offensive struggles. "Coming off of double teams and they did a good job of taking away our first option. I need to do a better job at getting the ball out quick or to a different person. We didn't hit a lot of shots either, and we need to get better at executing throughout the game."
Before finally leaving for the team bus a second time, Anthony said he'll solve things.
"As far as me, I'm all right," he said. "I'll figure out what I have to do out there and adjust whatever way I have to."
The Knicks now have 28 games to figure it out.