DALLAS -- Monday night, Mavericks guard Jason Kidd complained about the referees and a lack of respect for the defending NBA champions.
Tuesday night it was the Knicks' turn.
The Knicks were upset at two non-calls: a possible walk on Dirk Nowitzki, which drew a technical foul on Tyson Chandler for arguing, and Kidd not getting whistled for a flagrant foul on Jeremy Lin.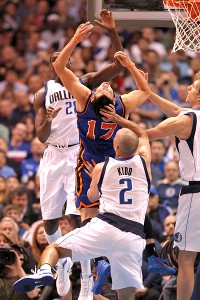 Matthew Emmons/US Presswire
Evidently, this was not worthy of a flagrant-foul call.
In the fourth quarter, with the Knicks down 86-78, Nowitzki made a 6-foot fadeaway with 2:27 to play. After the basket, Chandler and Knicks coach Mike D'Antoni complained about the non-call.
"He traveled on that last shot, by the way," Amare Stoudemire said. "I saw the replay."
D'Antoni said Nowitzki traveled at the start and end of his move to the basket.
The other call that bothered the Knicks came in the third quarter.
On a drive to the basket, Lin was knocked to the floor after taking a blow to the head by Kidd. A foul was called on Kidd, but D'Antoni picked up a technical for wanting a flagrant foul called.
"Anytime you just get clobbered in your face, they had to look at it," D'Antoni said, alluding to the referees' failure to look at a replay to determine if a flagrant foul should have been called. "I don't even mind them looking at it and thinking maybe not. But to ignore it is kind of tough.
"I deserve the technical and it's probably one of those things where they didn't see it. Maybe it was quick where they didn't see it. I wanted to protect our guys."
The Nowitzki non-call might have upset the Knicks the most.
He had a quiet first half, scoring just four points while going 1-of-8 from the field.
"I knew that wasn't going to last," D'Antoni said.
Nowitzki scored 24 of his game-high 28 points in the second half, which included 11 in the fourth quarter as the Mavericks survived losing a 14-point fourth-quarter lead to win, 95-85.
"It's never really a shutdown when you're playing a great player," said Stoudemire, who led the Knicks with 26 points. "It's always going to be a battle of two halves. In the first half, we did a great job of containing him. Second half he was able to get it going a little bit, a couple of open shots, a couple of touch shots, a couple of travel shots. He played well."