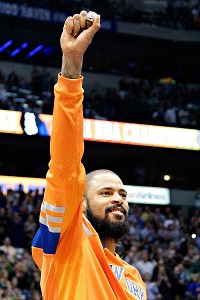 AP Photo/Tony Gutierrez
Tyson Chandler
In a short ceremony before Tuesday night's game in Dallas, Knicks center Tyson Chandler became the last player from the Mavericks' 2010-11 team to get his NBA championship ring.
A video of Chandler's highlights from last season was shown before the 7-foot-1 center got a nice ovation from Mavericks fans.
"To us, he was that missing piece last year that took us over the top," Mavs star Dirk Nowitzki said. "I was happy to see him get a great ovation by the crowd. That was a special moment for him and for us. I'm glad everything got their ring now and we can focus on getting to the playoffs."
Chandler landed a $56 million, four-year contract with the Knicks in a sign-and-trade that was part of a three-team deal at the start of training camp.