The New York Knicks lost their fifth straight game Sunday afternoon to fall to five games under .500.
And with just 25 games left in the regular season, Carmelo Anthony believes he and his teammates' "backs are against the wall."
"We've got to find a way to get it done right now," Anthony said after a 106-94 loss to the Philadelphia 76ers. "It's coming down toward the end of the season. Our backs are against the wall and we've got to figure it out. It's not fun though."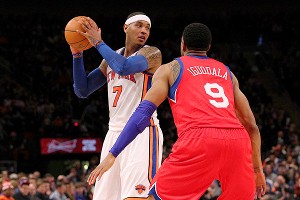 Anthony Gruppuso/US Presswire
Carmelo Anthony
The Knicks trailed by as many as 21 points to the Atlantic Division-leading 76ers on Sunday. They were outscored 38-24 in the decisive third quarter.
"I think we could have put up a better fight," Amare Stoudemire said. "We've got to do a better job of knowing the importance of games."
Both Anthony and Stoudemire spent the entire fourth quarter on the bench. With the stars out, the Knicks' second unit cut Philadelphia's lead to 14 with seven minutes to play, but couldn't complete the comeback.
Mike D'Antoni said he kept Anthony and Stoudemire on the bench in the final quarter because the Knicks' reserves were "fighting."
"I just didn't feel like it was fair to them to take them out and try something else," said D'Antoni, who said he believed his team lacked a "collective spirit" on Sunday. "If guys are going to fight that hard and bring you back, I [want to] give them the chance to finish it up."
Stoudemire said he didn't have an issue with being benched in the fourth quarter. Anthony wasn't as clear on the issue. He said he didn't know exactly why D'Antoni kept him out, though he guessed the coach may have been saving him, as well as Stoudemire, for Monday's game in Chicago.
"I don't really know what was Coach's mindset," Anthony said, who had 22 points on 5-of-13 shooting in 29 minutes. "Maybe he was trying to save us for tomorrow. I'm not sure. You're going to have to ask him."
The mounting losses have started to bother Anthony, who came to New York in a blockbuster trade last season with aspirations of winning an NBA championship.
"Playing out there is not fun. There's no type of confidence out there," Anthony said. "When we get down, it just seems like our whole energy just goes out the door."
Stoudemire said the Knicks may have been "going through the motions" on Sunday.
"This is something we've got to not get used to," Stoudemire said after scoring nine points and pulling down five rebounds in 28 minutes against Philly (25-17). "I came here for a reason, I came here to win. That's something that's still close to my heart. So we've got to find a way to re-establish ourselves and implement our will on opposing teams."
The Knicks (18-23) had won seven in a row and eight of nine with Jeremy Lin running the offense in February. Anthony missed most of that stretch with a groin injury. Since Anthony returned on Feb. 20, the Knicks are 2-7.
With Anthony, Stoudemire and Tyson Chandler in the fold to start the season, some thought the Knicks would compete for a top seed in the Eastern Conference. Instead, they are in eighth place in the conference, just 1.5 games ahead of the ninth-place Milwaukee Bucks.
"We've just got to figure it out," Anthony said. "Now is not the time to drop our heads and start thinking too much. We've got to figure it out, one way or another. Something's got to happen."