It was Kid's Day at the Garden on Sunday, so you'd expect a warm reaction for the Knicks during player introductions.
But that's not what Carmelo Anthony heard.
The crowd greeted Anthony with lukewarm cheers and a smattering of boos during intros. Boos seemed to be directed at Anthony again in the second half after he pulled up for a perimeter jumper when it looked like he had Landry Fields open for an easier look. Some started a "Fire D'Antoni" chant in the second half with the Knicks down double-digits.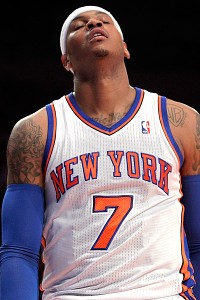 AP Photo/Seth Wenig
Returning home did nothing to help Carmelo Anthony and the Knicks get back on track.
Anthony said he heard the boos but can block them out when he's on the floor.
"I saw Landry on the break but by the time I saw him, if I would have threw the ball to him it would have been a turnover," Anthony said. "As far as boos go, I'm not as concerned about that. I don't worry about that."
In a general sense, though, Anthony felt the crowd's boos had a negative effect on the team.
"Guys were putting their heads down when we heard a couple of boos and that just sucked the whole energy out of everybody. We can't have that," he said. "Regardless of what they're saying in the stands, boos or whatever, we gotta block that out and play basketball."
Anthony hit five of his first seven shots on Sunday, but missed his final six to finish with 22 points.
He and Amare Stoudemire sat on the bench for the entire fourth quarter as the Knicks' reserves cut Philadelphia's 21-point lead to 14.
Anthony didn't know exactly why D'Antoni kept him out, though he guessed the coach may have been saving him, as well as Stoudemire, for Monday's game in Chicago.
"I don't really know what was Coach's mindset," Anthony said after the Knicks lost their fifth straight game to fall five games under .500. "Maybe he was trying to save us for tomorrow. I'm not sure. You're going to have to ask him."