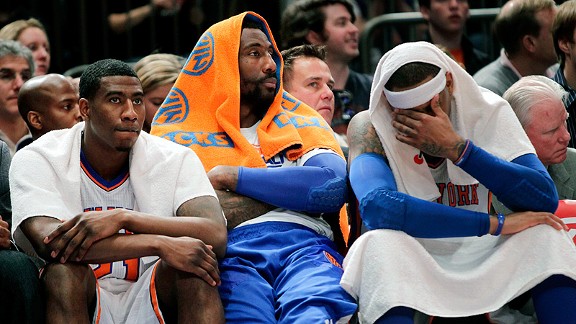 AP Photo/Seth Wenig
There was a moment in the fourth quarter on Sunday when Carmelo Anthony sat on the bench with a towel over his head. Amare Stoudemire was next to him, apparently sulking.
It wasn't clear if the Knicks stars were upset because they were on the bench or because their team was down by double-digits, on the verge of losing its fifth straight.
Nevertheless, both Stoudemire and Anthony spent the entire fourth quarter on the bench.
With the stars out, the Knicks' second unit cut Philadelphia's 21-point lead to 14 with seven minutes to play but couldn't complete the comeback. They ended up losing to Philadelphia, 106-94.
Mike D'Antoni said he kept Anthony and Stoudemire on the bench in the final quarter because the Knicks' reserves were "fighting."
"I just didn't feel like it was fair to them to take them out and try something else," said D'Antoni, who said he believed his team lacked a "collective spirit" on Sunday. "If guys are going to fight that hard and bring you back, I [want to] give them the chance to finish it up."
Stoudemire said he didn't have an issue with being benched in the fourth quarter. Anthony wasn't as clear on the issue. He said he didn't know exactly why D'Antoni kept him out, though he guessed the coach may have been saving him, as well as Stoudemire, for Monday's game in Chicago.
"I don't really know what was Coach's mindset," said Anthony, who had 22 points on 5-of-13 shooting in 29 minutes. "Maybe he was trying to save us for tomorrow. I'm not sure. You're going to have to ask him."
Anthony was asked if he was mad about being benched.
"No, I was fine. I guess he was saving me for tomorrow's game," he said. "That was the mindset out there."