NEW YORK -- To Jeremy Lin, Mike D'Antoni was more than his Knicks head coach. He was his career savior.
After going undrafted, not getting a real shot with three NBA teams (the Mavericks, Warriors and Rockets) and being sent down to the D-League three times, Lin found himself at the end of the Knicks' bench -- wondering, praying, hoping he would get a chance.
Then, on Feb. 4 against the Nets, Lin's world as he knew it changed forever. With 3:34 to play in the first quarter, D'Antoni called Lin's name for him to sub in for Iman Shumpert.
From there, Linsanity was born.
Now, the man who enabled Lin to become a global sports figure will no longer be guiding the second-year player from the sideline. And that thought didn't sit well with the 23-year-old when he received the news Wednesday morning that D'Antoni was resigning.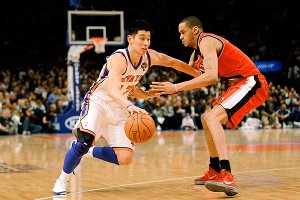 Chris Trotman/Getty Images
Jeremy Lin"Obviously, I miss him a lot," Lin said in the Knicks' locker room Wednesday night, after his team routed the Blazers 121-79. "What he did for my career, I'm not going to forget what he did for me personally. It was very emotional. I'm sad to see him go. I owe a lot to him."
Lin said he called D'Antoni and received a text message back. "I plan on talking to him for a long time," Lin said.
Behind the scenes, there are many who believe Carmelo Anthony led to the resignation of D'Antoni, who wanted to run his system more through Lin with Melo scoring off pick-and-rolls and space-outs, not isolations and post-ups.
But Melo never fully adjusted to an offense that D'Antoni has always orchestrated, from his days in Phoenix with Steve Nash to last season in New York with Raymond Felton. Interestingly, Amare Stoudemire said in the locker room tonight that when he spoke to D'Antoni today, he told STAT that one of the reasons why he stepped down was because the players weren't buying into his playbook.
But from Day 1, when Anthony became a Knick on Feb. 21, 2011, he seemed to always be in the driver's seat; not D'Antoni. In fact, one person knowledgeable about D'Antoni's resignation said the head coach was "a dead man walking" when it came to his future in New York, compared to Melo's.
Looking ahead, while Lin will continue to start -- for now, but don't count out Baron Davis -- he will have to be prepared for more plays that resemble what Woodson drew up as the Hawks head coach from 2005 to '10, when Joe Johnson was the focal point.
Now, that player is Anthony. In fact, during his pregame news conference, Woodson said he would look to post up Anthony more against Portland. Then after the game, he said he tried to utilize the team's leading scorer (21.3 points per game) early in the contest to help him get going. The play-calling worked as Melo scored 10 points in the first quarter.
Lin said that Woodson will look to change a few things in the offense, but not everything. On the court tonight, he felt a difference not only with the team's defense and higher energy level, but also with Woodson's new direction being implemented in the offense. Lin agreed that Anthony and Amare Stoudemire should be the Knicks' go-to guys, which echoes the philosophy of Woodson, which will likely continue to develop over time.
"Obviously we want them [Anthony and Stoudemire] to be our primary scorers, but there are nights where that's not going to be the case and they get doubled, tripled," Lin said. "Tonight, we had them clicking, we had the bench clicking. We just played to our strength, but every game has a different tempo, different flow and different rhythm."
Woodson credited the second unit for stepping up tonight -- sharpshooters J.R. Smith and Steve Novak combined for 13 3-pointers -- and said the Knicks are the deepest team he's ever coached in his career. He even went on to say that the players must "cherish" their minutes or they may not play as much from game to game.
"That is the nature of this business," he said. "I am trying to win. I want these guys to win for the city of New York. That is the only way it should be."
Woodson's sense of accountability is probably at a different degree than what Lin is used to hearing -- he had a lot of flexibility playing under D'Antoni -- but it's crunch time now for the Knicks. With 23 games remaining, and the team neck-in-neck at the eighth seed with the Bucks, who just upgraded by trading for Monta Ellis, there is no letting up.
Lin will have to parlay that emotion from Wednesday's surprising development, centered around the first person to give him his biggest professional opportunity, into a stronger drive -- and more efficient play. That means fewer turnovers and adjusting to Woodson's late-season audibles to help the Knicks get over the hump and climb to the sixth spot or higher.
The bottom line is, Woodson means business and wins, and those are the two main things that everyone who roots for the Knicks wants to hear.
You can follow Jared Zwerling on Twitter.