Carmelo Anthony insists that he had no bearing on Mike D'Antoni's decision to step down as head coach of the Knicks.
"I didn't have anything to do with that. That was coach's decision. I really didn't know ... what he was thinking as far as his decision to step down," Anthony said hours after the Knicks announced that they'd mutually agreed to part ways with D'Antoni.
Anthony insisted that he "never had any issues" with D'Antoni, for whom he played 59 games over two seasons.
"Any disagreements that he had with us as a team we talked it out and we went from there," he said.
According to reports, Anthony and others had tuned out D'Antoni in recent weeks. Anthony also had a difficult time adapting to D'Antoni's up-tempo offense.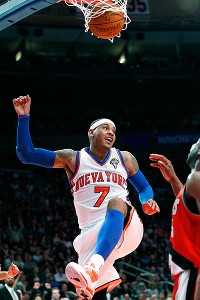 AP Photo/Frank Franklin II
Carmelo Anthony
Anthony is a player who thrives in isolation. D'Antoni's offense is predicated on ball movement and spacing.
The disconnect was evident between the two last month when the Knicks went 8-1 in a nine-game stretch on the strength of point guard Jeremy Lin. Anthony sat out seven of those nine games due to a groin injury.
But once Anthony returned from injury and the Knicks' recent slide began, the discontent from it created a gulf between Anthony and D'Antoni. The Knicks lost eight of 10 after Anthony returned on Feb. 20.
After Wednesday's game, Anthony acknowledged that he had to make "sacrifices" to fit into D'Antoni's system. He cited D'Antoni asking him to play point forward earlier in the season as one of those sacrifices. D'Antoni and his staff asked Anthony to handle the ball because they didn't have a capable point guard on the roster, before they found one in Lin
"Then Jeremy came out overnight and put us back to a .500 and got us playing great basketball," Anthony said. "When I came back ... I had to sacrifice for the system, for Mike D'Antoni's system. I had no problem with that."
With the Knicks struggling, Anthony turned into a public scapegoat. He was booed before Sunday's home loss to Philadelphia. His reception before Wednesday's game was lukewarm at best. But fans showered Anthony with cheers soon after tipoff against Portland.
He had 10 points in the first quarter, knocking down two of his three 3-point attempts, and finished with 16 points and seven assists in 24 minutes.
"Tonight, it was a different system," Anthony said in reference to the offense in interim coach Mike Woodson's first night on the bench. "Everybody felt comfortable out there tonight. Ya'll saw it out there, everybody was smiling, having fun."
That's not the only difference between Woodson and D'Antoni, according to Anthony. The All-Star small forward said Woodson is more apt to call a player out publicly, while D'Antoni preferred to talk to players privately.
"Coach Mike [D'Antoni] would pull you to the side, he won't say it in front of the guys. Woody, he'll tell you right there, just like it is," Anthony said. Anthony said Woodson's accountability-based approach would help the Knicks.
"In life, there's times when change can be for the better," Anthony said. "This is an unfortunate situation with Coach Mike. But sometimes you need something to spark off and for guys to wake up and say, 'OK, something's not right here and we've got to change it.'"
Earlier in the day, before shootaround, Anthony talked to D'Antoni about the direction of the Knicks, who had lost six straight entering play Wednesday. He said after shootaround that he supported D'Antoni "100 percent."
Anthony then went home after shoot around to take a nap and woke up to "30-something" text messages.
"That's when I found out," Anthony said. "Nobody saw this coming."
You can follow Ian Begley on Twitter.