NEW YORK -- Mike D'Antoni wanted to run his offense a certain way. He wanted to showcase the pick-and-roll and let the point guard lead a free-flowing system.
The entire team didn't buy into that. So he walked.
That was the reason Amare Stoudemire gave when asked why D'Antoni surprisingly stepped down as head coach, hourse before the Knicks demolished the lowly Portland Trail Blazers on Wednesday night, 121-79 at Madison Square Garden.
"He had a certain idea of a system that we were supposed to implement. We didn't all quite buy into it and he got frustrated and I think that's why he took his way out," said Stoudemire, who spoke with D'Antoni on the phone after his resignation.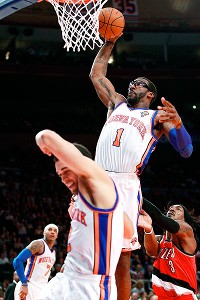 AP Photo/Frank Franklin II
Amare Stoudemire
Carmelo Anthony reportedly clashed with the former head coach, ignored D'Antoni's offensive sets and showed an effort that appeared to come and go. Before Wednesday's victory, the Knicks had been 2-8 since Anthony returned from a strained groin, after winning seven straight behind Jeremy Lin.
D'Antoni commanded an offense that ran through the point guard and was predicated on ball movement, whereas Anthony's strengths are predominately in the post and on isolation plays from the wing. The two clashed, if not in the locker room, then on the court. Anthony was visibly frustrated and, at times, dejected.
Interim head coach Mike Woodson said he would change some things, specifically working the offense more through Anthony and Stoudemire.
"I think he was a little frustrated by the fact that everyone wasn't buying into his system," Stoudemire said of D'Antoni. "It made him look bad so he felt that, I guess, stepping down was the best way for him."
Anthony said he didn't know why D'Antoni bailed. He contends that he and D'Antoni never had any issues and said after the morning shootaround -- before news of the resignation broke -- that he supported D'Antoni "100 percent."
"I didn't have anything to do with that," Anthony said of D'Antoni's resignation. "That was Coach's decision. I really didn't know where his mindset was at, what he thought [or] what he was thinking as far as his decision to step down.
"So anything about me and Mike -- you guys who probably know Mike personally or anything like that, he'll tell you we never had any issues. Any disagreements that he had with us as a team, we talked it out and we went from there."
The consensus from the team management and players was that D'Antoni left for the betterment of the team. Jared Jeffries, one of D'Antoni's favorite players, said he was disappointed that the coach quit.
"He felt like this was the time, if we were gonna make a run we had to do it now," Jeffries said. "With the shortened season, so many games coming up back-to-back, if he waits another week and we slip and keep going, we could be out of the playoff hunt. I've always that he was a selfless coach. He wants the best for his players and he felt like this was the best thing for us."
Tyson Chandler also said he respected D'Antoni's decision to give the team an opportunity to try something, and someone, new.
"If he felt like stepping down, and letting someone else lead, is the best thing for the team, I respect that," Chandler said.
You can follow Christopher Hunt on Twitter.