NEW YORK -- Ex-Knicks point guard Raymond Felton entered the Garden on Wednesday night playing under a rocky head coach situation. In fact, his sideline boss, Nate McMillan, was fired on Thursday.
On top of that, Felton, currently a member of the struggling 20-23 Trail Blazers, was entering an arena where his former team was also dealing with head coach drama. Earlier that day, Mike D'Antoni, who coached Felton last season in New York, resigned.
Addressing reporters following the Knicks' 121-79 blowout win, Felton said he didn't know why D'Antoni had stepped down, but he credited the head coach for helping his game. In fact, Felton said he "loved" D'Antoni's system and saw "nothing wrong with it." Before he was sent to the Nuggets in the Carmelo Anthony blockbuster trade on Feb. 21, 2011, Felton was averaging a career-high 17.1 points and 9.0 assists in 54 games.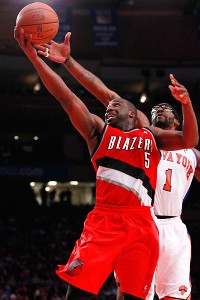 AP Photo/Frank Franklin II
Raymond Felton scored nine points on Wednesday in his return to the Garden.
"Obviously I don't know what they had going on over here or the issue was, but the system worked," Felton said. "Look at what it did to [Jeremy] Lin. I mean, it made Jeremy Lin into Linsanity, so I don't think there's anything wrong with the system. But when I was here, I loved it and I enjoyed it, and I think everybody who I was playing with at the time loved it and enjoyed the system. And it works."
Felton said Lin has done a great job making plays for himself, but he still needs to work on getting the ball to the Knicks' two primary scorers, Anthony and Amare Stoudemire. That's especially true now that Mike Woodson plans to work his offense more through both All-Stars. Felton said you can never tell how fast players are going to build chemistry -- "sometimes it doesn't take a day at all," he said -- but made it clear that experience is essential.
"It's all about how you use them and it's about how you learn how to get the ball to them," Felton said. "[Lin] hasn't had enough time to really learn how to get the ball to them. You can't expect him to come in and just do everything right away. He got himself going, so now it's his job as a point guard to make sure those guys get it going and do that for himself.
"There's not enough time in this season. He's only been here a short amount of games to do that, so you can't put that much pressure on him for him to do that."
With the upcoming changes, now that Woodson is at the helm, Lin is preparing himself by being just as aggressive initiating the offense and creating scoring opportunities. He knows that players can't let up during the shortened season, which presents limited practice time.
"We're not going to use lack of time as an excuse because there's plenty of other teams who are going through changes and stuff like that," Lin said.
"We'll be ready."
You can follow Jared Zwerling on Twitter.