The end of the Mike D'Antoni Era may also signal the end of Jeremy Lin taking 15 shots a night.
During his introductory news conference on Wednesday, Mike Woodson said he'd make "changes" to D'Antoni's system.
He mentioned that he'd try to get Carmelo Anthony more opportunities in the post and get the ball to Amare Stoudemire in the paint.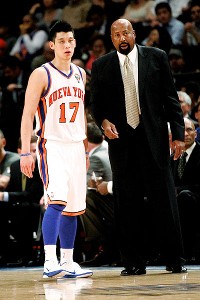 Chris Trotman/Getty Images
Jeremy Lin is working to learn Mike Woodson's system.
One veteran Eastern Conference scout also thinks that will mean fewer shots for Lin, who had been taking 14.6 shots per game under D'Antoni since Feb. 4.
"I think Melo will probably get more touches and I think Jeremy's touches will probably go down [under Woodson]," the scout said.
In Atlanta, Woodson ran an offense featuring more isolation sets, which Anthony thrives in. The Knicks offense under D'Antoni was predicated on ball movement and isolation.
Lin said after Thursday's practice that he's prepared to make sacrifices in Woodson's offense. He expressed confidence that he could make those adjustments, but at the same time called D'Antoni's system "perfect" for him.
"It's going to be a different style," Lin said of Woodson's offense. "We still need to figure it out because we don't have it all figured out right now."
"I've just got to learn and sacrifice and be a part of this team," he added, "Roles are going to change again. This is the adjustment process."
Lin led the Knicks to eight wins over a nine-game stretch in mid-February. Anthony sat out for seven of those games with a strained groin injury.
After Anthony returned on Feb. 20, the Knicks lost eight of 10. Advanced statistics over that 10-game stretch indicated Anthony wasn't at his best while sharing the floor with Lin.
The Knicks were scoring 109.8 points points per 100 possessions with Anthony on the bench and just 97.6 points per 100 possessions with him on the floor.
Anthony acknowledged on Wednesday that he had to make "sacrifices" in D'Antoni's offense. He said on Wednesday that players were comfortable running Woodson's offense during the Knicks' 42-point win over Portland.
"Tonight, it was a different system," Anthony said on Wednesday night. "Everybody felt comfortable out there tonight. Ya'll saw it out there, everybody was smiling, having fun."
As for Lin, he thinks he can adapt to Woodson's system.
"I've got to continue to be aggressive, but it's going to be in different ways," he said after his first full practice with Woodson. "Different ways to initiate offense, different ways to score and create. It's going to be definitely a change. There will be challenges for all of us."
Lin was "very emotional" on Wednesday when he heard D'Antoni had stepped down.
The point guard got a chance to exchange text messages with D'Antoni on Thursday.
"It was good, a lot of appreciation on my behalf," Lin said. "He told me to stay aggressive, keep working hard, the kind of things he had been telling me about and preaching to me while he was here."
You can follow Ian Begley on Twitter.