We all know how good the Knicks' defense has been under interim head coach Mike Woodson.
But has Woodson revitalized J.R. Smith, too?
In the Knicks' first seven games after the All-Star break, Smith made just 14 shots. In his last three, he has knocked down 18, playing a pivotal scoring role for New York's second unit.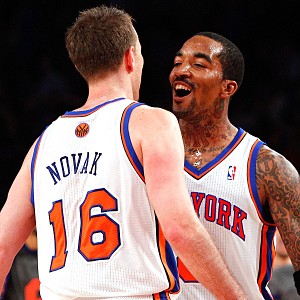 Debby Wong/US Presswire
J.R. Smith and Steve Novak are a combined 24-for-52 (46 percent) from 3-point range over the past three games.
He said late last week that his shot was "starting to feel a lot better."
"I've been getting a lot of shots up in shootaround and practice," Smith said. "I'm starting to get my rhythm back and, thankfully, they're starting to go in."
After a strong Knicks debut in a win over Dallas on Feb. 19, Smith shot just 36 percent from the floor in the next 10 games.
But last Wednesday, shortly after Mike D'Antoni and the Knicks agreed to "mutually" part ways, Smith heated up.
He had 23 points, 21 of which came on 3-pointers, in the Knicks' 42-point win over Portland.
Two nights later against Indiana, the Freehold, N.J., native poured in 16 points on 6-of-11 shooting in a home win.
"That was one of the reasons I vouched for him to get here," Carmelo Anthony, Smith's former teammate in Denver, said on Friday night. "I know what he can bring to the table. When he first got here, he was trying to figure things out. But he's just playing basketball now."
After shooting just 29 percent in the first seven games after the break, Smith has knocked down 43 percent of his attempts in his last three, including 12 of 28 from beyond the arc.
In the process, he helped spearhead a Knicks bench that will be pivotal to the team's success the rest of the way.
"Our bench is just as important as the guys that start the game," Woodson said. "You cannot go anywhere in this league from a team standpoint if your bench is not producing."
The bench has produced plenty in Woodson's first three games, scoring an average of 51.6 points per game. And Smith, a notoriously streaky shooter, has been in the middle of it.
He contributed 11 points on just 4-of-12 shooting on Saturday night in Indiana, but his 3-pointer early in the fourth giving the Knicks a four-point cushion.
While he's happy with his recent production, Smith knows he has room to improve.
"I think I can do a better job of getting my hands on balls, getting steals and rebounds," Smith said, adding, "I have to put it all together eventually."