Every weekday morning throughout the season, ESPNNewYork.com will tackle a burning question about the Knicks in our "Opening Tip" segment.
Today's Burning Question: Will Carmelo Anthony continue to exert himself consistently on the defensive end?
All-Stars typically don't have poor back-to-back performances, but that's exactly what Pacers swingman Danny Granger had Friday and Saturday against the Knicks.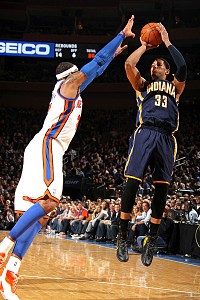 Nathaniel S. Butler/NBAE/Getty Images
Carmelo Anthony and the Knicks never let Danny Granger get comfortable over the weekend.
Granger scored nine points Friday on 4-for-15 shooting and 11 points Saturday on 5-for-15 shooting. He only made one more basket in the second game of the home-and-home.
A lot of credit goes to Granger's matchup, Anthony, who seems to be buying into the accountability that Mike Woodson has been stressing since he replaced Mike D'Antoni last Wednesday.
Woody has placed a higher degree of accountability on Anthony, since he's the team's veteran leader, and Melo has been stepping up to the plate during the Knicks' three-game winning streak.
Even while attempting fewer shots and averaging only 14.7 points during those three games, not once has Anthony looked disgruntled. He's playing spirited, which Woodson has wanted to see more from the team, and taking that to the defensive end. In addition to Melo swarming the ball carrier and using his 6-8, 230-pound frame to body up defenders, his footwork has stood out the most, especially rotating on the perimeter to close out on shooters and to the block to provide help-side D.
"I think in the last three games, my focus just was having energy that I haven't had so far this season, especially on the defensive end," Anthony said at Monday's practice.
"Everybody on this team, and everybody in the world, knows I can score the basketball, so it's not that important to me. As far on the defensive end, just showing my teammates that the effort is there, giving that extra effort and, as a result, everybody's been feeding off of that."
They sure have. In Mike D'Antoni's final 10 games as their coach, the Knicks allowed 103.7 points per 100 possessions; in Woodson's first three games, they've given up 93.4 points per 100 possessions. They've also lowered their opponents' field goal percentage from 46.7 percent (in those 10 games under D'Antoni) to 39 percent (under Woodson). And they've forced 60 turnovers in the last three games.
One veteran Western Conference scout said it's not a secret Anthony can play defense, it's just a question of when.
"Carmelo was a guy who was kind of pushed by [Nuggets head coach] George Karl on the defensive end and I've seen Carmelo when he wants to play defense," the scout said. "He can play defense. The question is: Does he take rest on defense? He obviously expends a lot of energy on offense; so does Amare [Stoudemire]. And it's hard to really be dominant at both ends, unless you're a guy like Michael Jordan or somebody close to that level.
"That's what separates the Jordans from the rest of the world. Kobe [Bryant] is close to that. He picks and chooses his spots, too, where he can kind of catch his breath defensively. But I think Mike [Woodson] will be able to get through to some of those guys, including Carmelo."
It's already happening.
What are your thoughts on Anthony's defense? How much more would you like to see Stoudemire step up on that end? Leave us your comments below.
You can follow Jared Zwerling on Twitter.