Nine years ago, Knicks sharpshooter Steve Novak and All-Star Dwyane Wade were teaming up to lead Marquette to the Final Four, where the Eagles lost in the semifinals.
Wade's future in the NBA was clearly defined at the time; he was one of the best college players in the country, averaging 21.5 points per game as a junior in 2003. Novak, however, was still a freshman with an undetermined path to the pros.
As Wade went on to win an NBA title in 2006 with the Heat and develop into a superstar, Novak, who was drafted in 2006, was bouncing around from city to city. For his first five years in the league, Novak played for four different teams: the Rockets, Clippers, Mavericks and Spurs.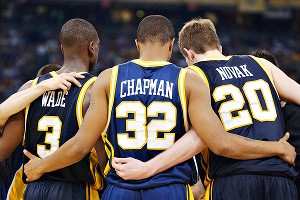 AP Photo/Al Behrman
Dwyane Wade and Steve Novak -- shown here, flanking Joe Chapman -- were members of Marquette's Final Four team in 2003.
Finally, not only has Novak become a prominent fixture in New York, he's become a popular name around the world in the wake of Linsanity -- even trending worldwide on Twitter. And D-Wade, his former Golden Eagles teammate, couldn't be more proud.
"I'm happy for him," Wade told ESPNNewYork.com. "I know the tough time he had earlier in his career, not playing as many minutes, going to different teams. At one point, it looked like he might not be in the league and then now he's found himself a home.
"And even if he hadn't found a home, he's made a name for himself, Mr. Discount Double Check [an ode to NFL MVP Aaron Rodgers' touchdown celebration]. He's doing a great job, so as a former teammate, but more so just knowing Steve and his family, I'm so happy for him."
Wade said he and Novak will be forever linked to each other and Marquette because of what they accomplished together in 2003. Even today, they're both still very close to their alma mater. Wade catches games there even during the NBA season, when the Heat is visiting Milwaukee, and Novak trains on campus during the offseason, like he did last year. Wade said their Final Four run was "stuff that coaches dream of."
"I'm sure for coach [Tom] Crean [who's now at Indiana], to look back and tune into that game and see two of his former players playing on the court at the same time in a very big game, was a dream for him," Wade said. "So us as teammates and competitive, man, we love it and when we go back to Marquette, when we go back to those moments, we're always going to be linked together.
"The Final Four is always going to be celebrated at Marquette, so we always go back and talk about those moments, even when our playing days are over."
One thing Wade will always be talking about is Novak's shooting ability -- he calls Novak's 3-point shot "a flamethrower." In fact, Novak's shooting was the first thing he marveled about when he saw Novak's high school recruiting tapes. From that point on, Wade always knew Novak's outside touch, in addition to his 6-10 height, would enable him to play at the next level.
"Seeing how easy it was for him to shoot the 3-ball, it was like unbelievable," Wade said. "I mean, I struggled to shoot the 3, but he was shooting it like it was a layup. Just coming in his freshman year, man, he put in the work, even though he already had a flamethrower.
"He was always in the gym, him, myself and [Travis] Diener. We spent a lot of time together in the gym. I couldn't shoot as well as those guys, but I enjoyed being in the games with them, tried to compete. If I won one, it was the greatest moment in my life at the time. It goes to show you how much work [Steve] put in and now it's paying off."
Looking ahead, Novak's long-range marksmanship just needs to pay off on April 15 at the Garden -- the last time the Knicks and Heat face each other this season -- and if, and when, they meet in the playoffs.
Information from ESPN.com's Tom Haberstroh was used in this report.
You can follow Jared Zwerling on Twitter.