Playing for Mike Woodson in Atlanta from 2005 to '10, Joe Johnson became a perennial All-Star, led the Hawks to the playoffs in those last three years and because of his success there, he was able to fetch the biggest free agent contract in 2010 for six years, $124 million.
One of the biggest reasons Johnson was able to accomplish those things was because Woodson granted his star player autonomy to run the team, which paid off because of his skill set.
"He gave me a lot of freedom as a player," Johnson told ESPNNewYork.com. "He just told me to go out there and be aggressive night in and night out, just make plays for myself and others, and to make other guys better. So that was what I tried to do."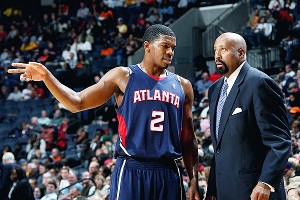 Scott Cunningham/NBAE/Getty Images
Joe Johnson and Mike Woodson spent five seasons together in Atlanta.
While many observers coined Woodson's offense as "iso Joe," there was more to it than that. Woodson wanted Johnson to be the main facilitator -- to not only utilize his strength as a scorer, but also as a passer to encourage team production. In fact, before Johnson first signed with the Hawks in 2005, he played some backup point guard in Phoenix behind Steve Nash and demonstrated he could excel as a point forward.
"I don't know where this isolation basketball came from," Woodson said on ESPN 1050's "The Michael Kay Show" on Monday afternoon. "If I think if we're an isolation basketball team, then you got one guy averaging 30-something points and everybody else is trying to figure it out. I think people blew the isolation basketball thing out of proportion. We just had a good offensive team [in Atlanta] and we shared the ball."
Johnson's ability to break down the defense and then dish out, igniting ball movement and team scoring, benefited both him and the Hawks. In his first season as a Hawk, in 2005-06, Johnson was one of only five players in the NBA to average at least 20 points and six assists. Every season Johnson was in Atlanta under Woodson, the Hawks had at least five players in double-digit scoring. Their last season together in 2009-10 culminated with the team finishing with a 53-29 record and a 111.9 offensive rating (second-best in the league) and a 106.7 defensive rating (13th-best).
Two veteran scouts ESPNNewYork.com spoke with, one from the Eastern Conference and another from the West, said that Woodson will look to duplicate what he did with Johnson in New York by working Carmelo Anthony off the pick-and-roll. The question is, how effective will that be? One scout said Melo has the ability to run it; he just needs to make more of a concerted effort to get his teammates involved.
Mike D'Antoni did call the play for Anthony, and occasionally he would make a great pass, but typically it would break down because his eyes were more set on the basket than the floor -- the main difference between Melo and Johnson. In other words, when was the last time in a last-second, game-on-the-line situation Anthony successfully passed the ball to a shooter off a dribble drive, a la Michael Jordan to John Paxson and Steve Kerr? Anthony has always been more known to take it in himself.
Here's how one scout compared Anthony to Johnson: "To be honest with you, Joe was a better creator in terms of for others than Carmelo is. He's a much better passer, a much more unselfish player. I'm not saying that Carmelo is selfish, but what I am saying is Joe was a guy that would willingly give up the shot. Joe would always pass to the open man. He was not a guy that had to take the shot, unless the situation dictated it."
Of course, that doesn't mean Woodson will shy away from Anthony when the game is on the line. Woodson, along with the rest of the league, is fully aware of Melo's clutch scoring, which he's been doing since he entered the league in 2003. Scouts also expect Woodson to add variations gradually to D'Antoni's system to get Melo the ball more in the post and out of sideline sets, so his top scorer can be in the best position to flourish in crunch time.
"At the end of the day, I'm going to go to Carmelo and I'm going to go to Amare [Stoudemire]," Woodson said during Monday's radio show. "I'm going to go to our best players that I think can get the job done or the player that might be hot that night. The players on this team know that Carmelo and Amare, who've done it at a high level, respect what they do and will make plays down the stretch."
Reflecting on their time together, Johnson said Anthony and the Knicks will appreciate how Woodson fosters open communication lines to enhance player production. Johnson pointed out that Woodson encouraged the guys to talk to him to discuss what was on their mind and he was a great listener in return.
"I think he's a great player's coach," Johnson said. "He listens to his players. He's an easy guy to talk to and he's very understanding, since he was once a player in this league. So he knows and understands how guys feel at times, and you could come to him with just about anything. I think he's going to do a great job [in New York]. Obviously, they've gotten off to a really good start, beating some good, quality teams. I'm sure they're heading in the right direction."
When Johnson first heard Woodson would be replacing D'Antoni, who was actually Johnson's Suns coach in the 2004-05 season, he knew it was a position Woody wanted to take on again.
"I was happy for him to get another chance to be a head coach in this league, and to get a chance to prove himself again," Johnson said. "That's something that he's been looking forward to, and I hope he does a great job."
You can follow Jared Zwerling on Twitter.