Nine-year-old Blake Appleton and Knicks forward Amare Stoudemire are both from Lake Wales, Fla. And thanks to Stoudemire, Appleton was able to sit courtside at Madison Square Garden when the Knicks routed the Pistons on Saturday night.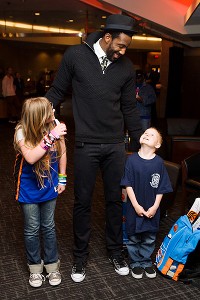 Courtesy of Avi Gerver
Blake Appleton, right, and his sister shared a special moment with Amare Stoudemire.
Appleton is battling terminal brain cancer, which was diagnosed in 2008. In November, he decided to stop treatment because he wants to live pain-free for as long as possible.
Appleton had always wanted to visit New York, and members of the Lake Wales community got together to pay for his family to travel to the Big Apple.
Stoudemire -- who attended the same elementary school, Polk Avenue, that Appleton does now -- hosted him at the Garden on Saturday and presented him with Scholastic books and Steiner Sports collectibles as well as some gifts from the Knicks.
"It was great to meet Blake and his family during their trip to New York," Stoudemire said. "We had a fun time sharing stories about our hometown Lake Wales, Fla. I am inspired by Blake and I am honored to call him a friend."
Appleton was joined at the game by his mother, Miranda, 10-year-old sister, Morgan, and Jenny Gilbert, a teacher who escorted the family on the trip.
You can follow Jared Zwerling on Twitter.