Shortly after taking over as head coach of the Knicks, Mike Woodson said he'd be doing things "a little different" from Mike D'Antoni.
Anyone who has watched the Knicks over the past nine games knows Woodson's a man of his word. Things are more than "a little different" these days for the Knicks, who are 8-1 under Woodson.
In addition to getting guys to buy in on the defensive end, the interim head coach has found a way to get Carmelo Anthony the ball where he's effective -- in the post.
"I guess he saw that I feel comfortable down there," Anthony said after Wednesday's win over the Magic.
In the past two games, Anthony has operated extensively out of the post, scoring 26.5 points on 48.5 percent shooting. It's by design, partly to make it easier for Anthony to play through a groin strain and partly to make him a more effective scorer.
"That's his sweet spot," Baron Davis said. "It's tough to guard him one-on-one, especially on the block."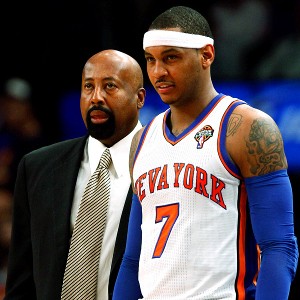 Debby Wong/US Presswire
Mike Woodson has Carmelo Anthony right where he and the Knicks want him.Overall under Woodson, nearly 18 percent of Anthony's touches are in the post, according to ESPN Stats & Information. In 32 games under D'Antoni, Anthony operated in the post 11.7 percent of the time. D'Antoni relied on Anthony to initiate the offense and play on the perimeter. Woodson's offense is heavy on isolation, giving Anthony a chance to operate with his back to the basket.
"Getting it to Anthony on the block definitely seems to be more of a focus [under Woodson]," an Eastern Conference scout said on Thursday.
There have also been ancillary benefits to emphasizing Anthony's post play:
FREE THROWS: In the past two games, he has gotten to the line 18 times, 38 percent higher than his season average.
DOUBLE-TEAMS: The Magic regularly threw a double-team at Anthony in the post on Wednesday night. The result? Thirty percent of Anthony's plays ended in assists. Three of his six assists were on 3-pointers.
EASIER OPPORTUNITIES: Anthony is shooting a career-low 40 percent from the field but hit 48.5 percent of his attempts this week. Overall, he's made 42 percent of his shots under Woodson. Certainly not a huge spike, but a step in the right direction.
Combine all that with the way he has rebounded the ball recently -- 7.25 per game in the past four games -– and it seems clear that Anthony's engaged in all aspects of the game -- something that seemed to be an issue under D'Antoni.
"Right now, with the coaching change, we've been playing extremely well," Anthony said. "Guys seem to be responding pretty well. We've been locked in our mission."
Anthony's usage has been up in the past two games, mostly due to the absence of Amare Stoudemire (back) and Jeremy Lin (knee).
And that's likely to continue. Lin's status is unclear and Stoudemire is out for at least the next two weeks with a bulging disk in his back.
"A situation like this requires me to step my game up a little bit more, take it up a notch," Anthony said. "I love moments like this."
Especially if he keeps getting the ball in the post.
You can follow Ian Begley on Twitter.