Baron Davis turned 33 on Friday.
A few hours before that night's game against the Wizards, he was feeling each and every one one of those 33 years. After the Knicks' morning shootaround, Davis complained about the litany of injuries he has dealt with this season. He said he was nowhere near the condition he'd hoped to be when he signed with the team.
But once the Knicks hit the court to face the Wizards, Davis turned back the clock. All the aches and tweaks and strains took the night off.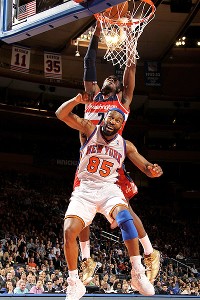 Nathaniel S. Butler/Getty Images
This play aside, it was a good night for Baron Davis.
"I felt good," he said.
And he looked it.
The 12-year vet scored a season-high 18 points on 7-of-9 shooting in the Knicks' rout of Washington. He hit four of his five 3-point attempts and led the Knicks to a 21-point halftime lead. He played just seven minutes in the second half -- and that was probably seven more than he had to.
"It was nice to see him have, really, a breakout game," coach Mike Woodson said. "He did some nice things on the floor tonight and I didn't have to play him many minutes. ... Nights like this are good because the nicks and bruises [guys have], they can sleep on them."
As far as nicks and bruises go, Davis has had plenty.
He missed the first seven weeks of the season with a herniated disk in his back and then suffered a hamstring injury shortly after his Knicks debut. He injured his neck after getting tangled up with Chicago's Kyle Korver diving for a loose ball on Tuesday. Then on Wednesday, he dove head-first after a loose ball again.
"It's been a long journey from the time that I got here, all the rehab, the minor setbacks, and then getting out there and playing and continuing to have minor setbacks," Davis said. "It's been frustrating, but at the same time I have to be thankful that I'm out here."
Knicks fans were just as thankful for Davis on Friday night because he came out hot on a night the team could've fallen into a trap against the hapless Wizards (14-45).
Davis started out strong, hitting his first three shots to give New York an 11-4 lead. His finger roll with 1:06 to go in the second put the Knicks up by 22.
"He looked good," Carmelo Anthony said.
It wasn't all good for Davis though. He was on the business end of a John Wall alley-oop in the second half -- a play that's sure to make all of the highlight shows. But he was able to laugh it off shortly after the ball went through the cylinder.
"Today, maybe it's because it is my birthday, I was a little lighter and having more fun," Davis said.
He also credited Allan Houston for his hot shooting. The Knicks' assistant GM -- and former sharpshooter -- told Davis to focus on maintaining balance when lining up his shot.
"He said just make sure your letting it go and not thinking about it," Davis said.
The win Friday gave put the Knicks into a seventh-place tie with Philadelphia. They are three games behind the division-leading Celtics. If Davis can, somehow, someway, give the Knicks anything close to what he gave them on Friday night, their chances at making a run at the division improve greatly.
But Davis didn't want to get in to predicting the future after his big night.
"My job is to make everybody look good and assist the ball and put us in the right positions, that's all I want to do," he said.
He did all that on Friday night. And sprinkled in a few points for good measure.