NEW YORK -- Tyson Chandler played through pain late in the Knicks' loss to Miami on Sunday after banging his left knee into Heat center Joel Anthony's knee.
"I really couldn't move. I didn't have too much strength in it. Moving laterally and trying to get up on the ball screens was difficult," Chandler said.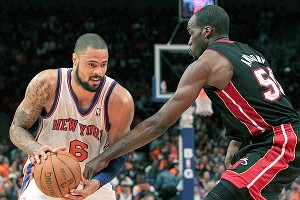 Anthony Gruppuso/US Presswire
"I should be fine," Tyson Chandler said after banging his knee.
Chandler's knee collided with Anthony's late in the third quarter. He came back to play 7:57 in the fourth, but was in noticeable pain.
"It was just sore," Chandler said after scoring nine points and grabbing just five rebounds against Miami.
No matter how much that pain lingers, Chandler vowed that he will play Tuesday against Boston. He has been arguably the team's most valuable player this season, helping to turn New York into a top-five defense. So the fact that he'll be on the floor for a pivotal game against Kevin Garnett and the Celtics has to be comforting to Mike Woodson.
"I should be fine," Chandler said. "Just really sore right now. It's hard to judge anything right now, fresh off the game, but I think I'll be OK. Just a bad collision."
The knee injury is the latest in a lengthy list of ailments for Chandler. He has been playing with an injured left wrist since late January and has dealt with groin and hamstring ailments this year.
There is no MRI scheduled for Chandler's knee.
With the loss to Miami, the Knicks dropped four games behind Boston with six games to play (the Celtics play the Bobcats on Sunday night).
So they'd need a win on Tuesday to have a remote shot after taking the Atlantic Division crown.
"As long as there's still opportunity for us to get there, until it's just mathematically we're not in it, we have to continue to fight," Chandler said. "It has to be a goal."
You can follow Ian Begley on Twitter.