NEW YORK -- The Knicks keep looking for a consistent second scoring option. And the more they look, the hungrier they become for the return of Amare Stoudemire.
Players said after New York's 95-83 loss to Miami on Sunday that they think they match up well with the Heat, especially if Stoudemire is back on the floor. The Knicks (31-29) fell to the eighth spot with the loss but, with six games left in the regular season, New York could still meet Miami, not top-seeded Chicago, in the first round of the playoffs.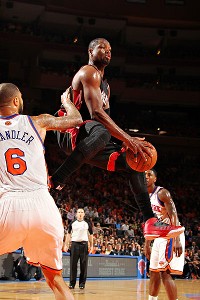 Nathaniel S. Butler/Getty Images
Dwyane Wade and the Heat clinched the Southeast Division title on Sunday.
"From what we see today, it should be interesting," said J.R. Smith, who finished with 16 points and seven rebounds. "Hopefully, we'll have STAT back and get him at least 90 percent by the playoffs. I think it's going to be a different story in the postseason."
Stoudemire took contact in a workout for the first time Thursday while trying to return from a bulging disk in his back. The star forward had an epidural shot to relieve the pain on March 29. The team originally said he would be out 2-4 weeks. Currently, there is no definitive answer on when he will return, but coach Mike Woodson said he "looked good" during his workout Thursday.
Stoudemire is still considered day-to-day.
Dwyane Wade commended the Knicks' resiliency and said that he expects the New York to be more dangerous when Stoudemire returns to the lineup.
"Amare is obviously a dynamic player," Wade said. "He's one of the best players in our game. He's always putting pressure on the defense and on the rim. No question they're a tougher team, they're a better team with him and I'm sure he'll be ready when the playoffs come.
"We understand they are a man down, but they've been a man down all year and always found a way to pick it up, stay competitive and be a good team. This is a very good team that's playing a lot better no matter who's out on the court."
Much of that has come from Carmelo Anthony, who put up another incredible individual performance. He posted 42 points and nine rebounds, shooting 14-for-27 from the field. Smith was the only other Knicks player in double figures.
Miami, on the other hand, got 73 points from its Big Three. LeBron James scored 29, Wade 28 and Chris Bosh scored 16 along with 14 rebounds.
Baron Davis called the Heat "a little more complete as a unit"than the Knicks are right now. The Knicks have juggled their lineup because of injuries all season and would have to adjust yet again if Stoudemire can rejoin the team in the postseason.
"Their offense is a little bit more intact, their defense is a little bit more intact at this point. When I say complete, they've just been together -- they have that established identity. We're continuing to establish ourselves. I think using these last couple games to continue to hone in on how we play ... we'll be just as good as anybody."
You can follow Christopher Hunt on Twitter.