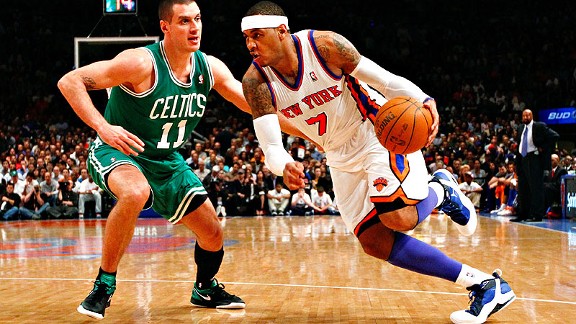 Debby Wong/US Presswire
In one respect, interim coach Mike Woodson is just like any other Knicks fan these days: he's having a good time watching Carmelo Anthony play basketball.
Woodson had a front-row seat on Tuesday for another dominant performance from Anthony. He had 35 points, 12 rebounds and 10 assists (all team-highs) to lead the Knicks to a critical 118-110 win over the Atlantic Division-leading Celtics.
"It's kind of nice to watch," Woodson said.
And it was the latest in a strong stretch for Anthony, whose averaging 30 points per game in the last three weeks.
"He's playing like we all thought he could play and it's beautiful to watch ... because he's doing a lot of things on both ends of the floor," Woodson said. "He's making guys around him better and we're winning. That's what the good players do."
Woodson has leaned on Anthony since Jeremy Lin and Amare Stoudemire went down with injuries on March 24 -- and Anthony's answered the challenge.
He's averaging more than 30 points per game, on better than 50 percent shooting, since Stoudemire and Lin got hurt -- significant increases from his season averages of 22 points per game on 42 percent shooting.
After his standout performance on Tuesday, Anthony agreed with the idea that he's playing his best basketball of the season.
"I could say that, especially with the guys being hurt, with Amare, Lin being out, (I'm) having to step up in every aspect of the game," Anthony said.
And it couldn't come at a better time for New York.
Tuesday's victory, combined with Philadelphia's loss to Indiana, gave the Knicks sole possession of seventh place in the conference. They are a game up on the Sixers and own the season tiebreaker against them. New York's faint hope to win the Atlantic Division is also still alive. The Celtics are 3 1/2 games up on the Knicks with five games to go.
And Anthony has carried them here.
"He has to be one of the hottest players in the NBA," Tyson Chandler said, "if not the hottest."
Anthony's last triple-double came as a member of the Denver Nuggets, on Feb. 5, 2007, in a loss to the Suns.
He's been through plenty since then:
He forced his way out of Denver, arriving in New York via a blockbuster trade.
He led the Knicks to their first postseason appearance in seven seasons last spring, before they were swept by Boston.
Anthony then drew heavy criticism for the Knicks' early-season struggles this year, and even more criticism when the team played well without him under the guidance of Lin. And he came under heavy fire from critics once again when Mike D'Antoni stepped aside as head coach.
But for one night at least, all of that seemed to be in Anthony's rear-view mirror.
"This is a great feeling," he said.
You can follow Ian Begley on Twitter.