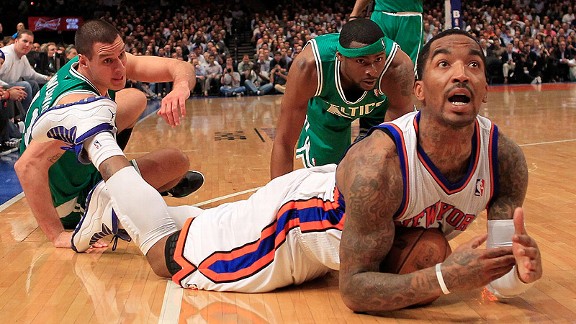 Chris Trotman/Getty Images
Will the Knicks let J.R. Smith slip away this summer?J.R. Smith says he hasn't made a decision yet on his player option for next season.
"It's still too early," Smith said last week. "I'm still weighing my options."
But according to three league sources with knowledge of Smith's contract situation, the reserve shooting guard will more than likely decline his player option and test free agency this summer.
That doesn't necessarily preclude Smith from a return to the Knicks. But bringing the 26-year-old New Jersey product back as a free agent would be financially challenging for New York.
Smith signed a one-year, $2.5 million contract with the Knicks in mid-February after playing in China during the lockout. The contract contained a $2.5 million player option for next season.
Smith, according to the sources, would be undermining his value on the free-agent market by signing the $2.5 million option.
"His market value will be a lot more than what the option is," one of the league sources said.
Smith enjoys playing in New York -- particularly with his former Nuggets teammate Carmelo Anthony. But his return to New York via free agency seems to be a long shot.
The Knicks will likely have to use an exception to re-sign Smith. But they will probably be forced to use their mid-level exception to re-sign Jeremy Lin, who is a restricted free agent this summer.
Thanks to a provision in the collective bargaining agreement named after Gilbert Arenas, the Knicks will be able to match any offer another team makes to Lin, but will have to dip into their mid-level exception to do so.
Using the exception on Lin would likely leave them out of the running for Smith, who, according to the sources cited above, agreed to the option as a protection in case he was hurt during his stint with the Knicks.
When asked about the option last week, Smith said he was still focused on the games left on the Knicks' schedule.
"I'm not worried about that. I'm still worried about this season," he said.
You can follow Ian Begley on Twitter.