Head coach Mike Woodson chalked up Friday night's loss up to complacency. Starting center Tyson Chandler said fatigue played a factor. Whatever the explanation was for the Knicks' eight-point loss to Cleveland, it was evident that effort was an issue.
"I've seen this happen over the years that I've been in this league," Woodson said. "You clinch a [playoff] spot and it's like a sigh of relief and they stop playing. And then they think that they can gear it back up. There's nothing about tonight's game that I liked at all."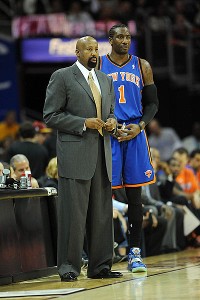 Eric P. Mull/US Presswire
Mike Woodson and Amare Stoudemire didn't like what they saw on Friday night.
The Knicks, who secured a playoff berth when Milwaukee lost on Thursday, were outrebounded 52-32 and surrendered 16 offensive rebounds.
Amare Stoudemire, who returned from a 13-game absence due to a back injury, echoed Woodson's sentiments.
"I feel like we felt complacent," he said. "Now that we've clinched, we feel like we accomplished something. We just have to make sure we keep our focus going into the postseason."
Stoudemire finished with 15 points but just three rebounds.
Even more disheartening for the Knicks was the fact that Manny Harris, the Cavs' 6-5 shooting guard, had a game-high 12 rebounds.
Friday's game was the Knicks' 10th in the last 18 days. Chandler, who only had four points and eight rebounds against Cleveland's beleaguered frontcourt, said some players may be running out of gas.
"Last week, we had those four games where it was back-to-back, day off, back-to-back. It's been a little tough that way," Chandler said. "I think it's more important to rest, get healthy. At this point in the season, with these games rolling over and over, it's important that we feel right for the playoffs."
Chandler went so far as to suggest that he may approach Woodson about getting some extra rest before the playoffs. The Knicks won't practice on Saturday in anticipation of their 1 p.m. tip-off at Atlanta on Sunday.