The fact that Amare Stoudemire played 27 minutes of injury-free basketball was about the only thing that pleased Knicks coach Mike Woodson on Friday.
"It was good having Amare back," Woodson said after the Knicks lost 98-90 in Cleveland. "I thought he played decent at spurts, but again, as a unit, we just didn't compete. And that's unacceptable."
In his first game since March 24, Stoudemire was effective at the offensive end, drawing fouls and finishing uncontested layups, but he struggled to keep Cleveland's active frontcourt off the boards.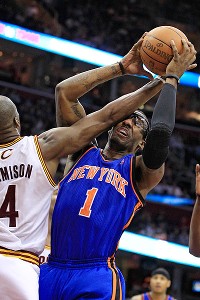 AP Photo/Tony Dejak
Stoudemire was 5-for-11 from the field and 5-for-8 from the foul line.
Despite Cleveland's plus-20 rebounding advantage, Stoudemire was pleased with his first game after missing 13 with a bulging disk in his back.
"I feel great. I feel really good out there," Stoudemire said. "As the game went on I felt more and more comfortable. I felt my rhythm coming back a lot faster. It's that muscle memory. Once you get going again, it just comes back to you."
Much was made of whether Stoudemire could complement Carmelo Anthony, the Knicks' first option. On Friday, as the two combined for seven turnovers, their offensive chemistry looked like oil and water.
The Knicks' offense, already adjusting to playing with reserve point guard Mike Bibby, was out of sync as it searched for ways to include Stoudemire in the offense. Anthony dictated their possessions and often took his defender one-on-one while the remaining four players tilted off to one side.
"We're not really concerned about the flow," Anthony said. "Guys have to make adjustments and things like that. As far as the offense goes, he can come right in and get back to where he left off at."
In the five games before Stoudemire's back injury, he was averaging 18.6 ppg and 8.6 rebounds.
Fellow big man Tyson Chandler was impressed with how Stoudemire responded: "I thought he looked well, moved well. It's gonna take some time for him to get back into the rhythm, for guys to get in the rhythm with him being out there, but I thought he looked very [fluid] out there on the floor."