Dwyane Wade and LeBron James. Fast and faster. The most dangerous fast-break attack in basketball.
That's one of the main things on the minds of the Knicks heading into their first-round series against the Heat, starting Saturday in Miami (3:30 p.m. ET on ABC).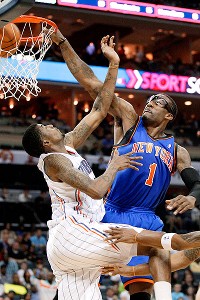 AP Photo/Chuck Burton
Amare Stoudemire looked good against the Bobcats on Thursday, and feels good about how the Knicks match up against the Heat.
"Miami's a team that plays great getting turnovers, and they get out and run well," said Amare Stoudemire after the Knicks beat the Bobcats on Thursday night 104-84 in both teams' regular-season finale. "So if we can contain our turnovers and contain their fast break, we've got a great chance to win. Half-court defensively, we're playing as one of the best in the league, but it's easier said than done. It's going to be a tough battle, regardless."
There's no denying how good the Heat are in transition, but when the pace slows down and they have to initiate their half-court offense, that can be a different story. One of their biggest weaknesses is half-court execution when the game bogs down, which is what the playoffs are all about. Grind-out possessions.
In general, the Heat's offense is mostly about beating defenders off the dribble with James and Wade, and they are two of the best at it, along with the Thunder's Kevin Durant and Russell Westbrook -- the equivalent of the Heat in the Western Conference. But if the Heat play a team that can force them into grind-out possessions -- which the Knicks can do because of their half-court defense -- that's where they're vulnerable, especially if they're not making 3-point shots. Already, they don't get the ball inside much at all, and the Knicks have the ability to further disrupt their offense.
"We're a much better defensive team than we were before, and we have so many threats offensively that we can match up with their offensive threats," Stoudemire said. "I think we are even as far as our starting lineups, and I think our second unit is a little bit stronger."
Overall, the Heat can end up getting very stagnant offensively in their half-court offense in a pressure-filled game, which hurt them in last year's Finals, with Tyson Chandler being the defensive anchor for the Mavericks. And that's exactly what the Knicks want to do -- make half-court defensive stops and limit fast-break opportunities. (They're also very glad to have Chandler on their side this season.)
"Absolutely, absolutely, because it's going to come to a slow pace," coach Mike Woodson told ESPNNewYork.com after Wednesday's shootaround at the Knicks' training facility. "You might have one or two games in the playoffs where things just get out of hand and you have big numbers on the scoreboard. But 90 percent of the games are going to be ugly because nobody wants to go home, and only the strong is going to survive. That's how I look at it."
Stoudemire said every possession in the playoffs is very important, and that's where the Knicks' half-court defense comes into play. The Knicks have held opponents to 91.5 points per game since March 14 (when Woodson took over) -- the fourth-best mark in the NBA. Also during that span, they've allowed only 11.6 fast-break points per game -- 10th-best in the league.
"It's really down to the team that makes the less mistakes normally wins the game and normally wins the series," Stoudemire told ESPNNewYork.com at Wednesday's shootaround. "So we have a certain game plan and we have to make sure that we really study the game plan, key in on personnel and really take care of the ball. I'm very, very huge on that because turnovers in the playoffs ... you can't go into a game and say, 'We lost this game because of 21 turnovers.' One loss in the playoffs can be the series, so we've got to be very, very careful."
While there was a lot of debate heading into Thursday night about whom the Knicks would fare better against, the Bulls or the Heat, the Knicks themselves didn't get caught up in that. They respected both teams for compiling the top two records in the East during the regular season.
Of course, that doesn't mean there's not a little extra motivation heading into Miami.
"It's going to be a great matchup. A lot of rivalry history there," J.R. Smith said after the Bobcats game. "More than anything, we're ready to play. A lot of people were speculating, 'Do we want to play them or the Bulls?' I mean, it doesn't matter. In order to be an NBA champion, you've got to beat the best teams in the NBA. That's our goal and we're not going to stop until we get it."
Woodson is also excited about the matchup.
"I couldn't be happier. That's what we played for," he said. "It was a great regular season and now it's playoff-basketball time. They will be ready. They're battle-tested, well-coached. It should be a good series."
You can follow Jared Zwerling on Twitter.