If the Knicks beat Charlotte on Thursday, they'll clinch the seventh seed in the Eastern Conference.
But they may not have Carmelo Anthony.
"I don't think I'll play tomorrow. I'm not sure yet," Anthony said after the Knicks' win over the Clippers on Wednesday night. "We'll figure that out tomorrow."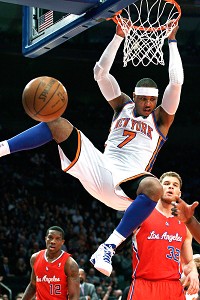 AP Photo/Frank Franklin II
Carmelo Anthony scored 17 points on Wednesday night.
According to Anthony, health is more important than seeding at this point.
"Whoever we play we have to start on the road anyway," said Anthony, who scored 17 points in 28 minutes on Wednesday. "We just want to start preparing, whether it's Chicago, whether it's Miami."
The Knicks are tied with Philadelphia entering the final day of the regular season.
The Sixers play Detroit on the road Thursday night. If the Knicks win, they will get the seventh seed and a first-round matchup with the Heat. If both teams lose, the Knicks will also finish in seventh because they have the head-to-head tiebreaker over the Sixers.
If the Knicks lose and the Sixers win, New York will finish in eighth and will play top-seeded Chicago in the first round.
The Knicks may also be without Tyson Chandler on Thursday. Chandler said that he may sit out and if he does play, it will be in limited minutes.
Anthony and Chandler have been battling injuries all season, but Anthony has said he's felt 100 percent healthy in recent weeks.
Chandler has dealt with a lingering injury to his left wrist all season. He has also suffered injuries to his groin and hamstring.
You can follow Ian Begley on Twitter.