Amare Stoudemire on Thursday reiterated that he'd welcome free agent Steve Nash to New York, but also expressed support for Knicks point guard Jeremy Lin.
"What team wouldn't want a two-time MVP, an assist leader, a veteran point guard? But we do have Jeremy Lin here and we have confidence in what he can do for us," Stoudemire said Thursday after the Knicks conducted exit interviews.
Before the Knicks' season-ending loss to the Heat on Wednesday, Stoudemire said it "would be great" to have Nash, his former Phoenix teammate, in New York next season.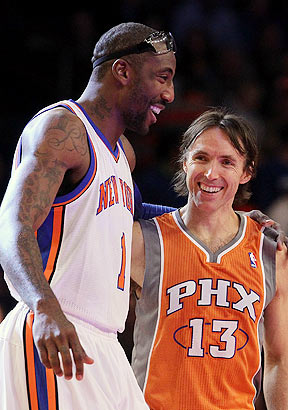 Jim McIsaac/Getty Images
Amare Stoudemire and Steve Nash were teammates for six seasons in Phoenix.
"Everyone knows that Steve loves New York and that New York loves Steve," Stoudemire told the New York Daily News. "I love Steve. It would be great to have him here next year."
Nash, who will turn 39 next season, told ESPN.com's Marc Stein last month that he'd like to "sign for three more years this summer" and play beyond his 40th birthday when he either inks a new deal to stay with the Suns or finds a new team via free agency.
"Steve Nash is obviously a veteran player," Stoudemire said. "I've played with him for several years. I know what he brings to the table. But the offseason is always an open market; you never know what can happen."
The Knicks' point guard position is in flux entering the offseason.
Lin will be a restricted free agent this summer. Thanks to a clause in the collective bargaining agreement, New York will be able to offer Lin the most money in the first year of his contract. But, to do so, the Knicks likely will have to dip into their midlevel exception.
Given their limited salary cap space, if they use their midlevel exception to re-sign Lin, it likely will preclude them from making a significant offer to Nash. So the 38-year-old two-time MVP would have to agree to sign at a significantly discounted rate.
Nash has said he wants to play for a team capable of contending for a title.
Stoudemire was diplomatic when discussing the Knicks' future at point guard. He was highly complimentary of Lin, who emerged off the end of the Knicks' bench to lead the team to seven straight wins in February.
"Jeremy's obviously a phenomenal [player]," Stoudemire said Thursday. "He's done a great job for us this year. He helped us maintain our playoff berth when he was here playing, so much respect for him for that."
Mike Woodson said Thursday that Lin will be back next season.
Lin, though, while grateful for the opportunity the Knicks have given him, has given no assurances that he will return to New York next season.
"It would be great if I could come back, but crazy things happen and I don't know what's going to happen," Lin said.
You can follow Ian Begley on Twitter.