Despite going through a messy one-year tenure in New York -- complete with a contentious divorce from the organization -- former Knicks and current SMU coach Larry Brown fully endorses the notion of his buddy Mike Woodson coaching the Knicks.
"Everybody says I had a bad experience in New York and this and that. But I wanted Woody to go there. He's in a great position to win," Brown said by phone on Friday.
Woodson, who served as interim head coach for the final 24 games of the regular season and the playoffs, signed a three-year contract extension on Friday night.
Brown signed a five-year, $50 million deal with the Knicks in 2005. But he lasted just one season, the Knicks paying him an $18.5 settlement after cutting him loose.
Brown said Friday that one of his biggest mistakes was not communicating directly with Madison Square Garden chairman James Dolan, whom Brown said is committed to building a winning team.
"I told Woody the guy wants to win in the worst way, and when you work for an owner like that, that wants to win, you have an unbelievable chance," Brown said.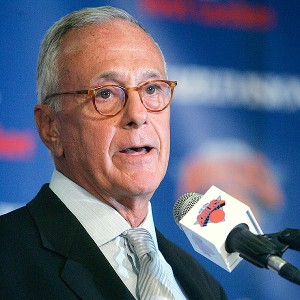 Stephen Chernin/Getty Images
Larry Brown
Of course, wanting to win and actually winning are two different things.
The Knicks haven't won an NBA championship since 1973. Under Woodson, the Knicks snapped a 13-game playoff losing streak -- spanning 11 seasons -- this spring when they beat the Heat in Game 4 of their first-round series.
But Brown believes Woodson is in a great position to succeed because of Dolan and the players on the roster.
"Guys want to play in (New York) and the biggest thing is, I love the NBA, and the league needs a great team in New York," Brown said. "So he (Woodson) is in a pretty terrific position."
Brown certainly wasn't. He went 23-59 in his only season in New York. He said his main problem with the Knicks was a "chain of command" issue. Brown reportedly clashed with then-Knicks president and GM Isiah Thomas.
"I never doubted (Dolan's) desire to win," Brown said, adding, "I kick myself all the time for not having a direct relationship with the owner because I think a lot of things might have been different."
Before taking the gig in New York, Brown coached in Detroit. It was there than he worked closely with Woodson, who helped coach a lockdown Pistons defense during their championship season of 2004.
"The guy can coach," Brown said of Woodson, "There's no question."
Brown talks to Woodson almost every day and calls him one of his best friends.
"I care deeply about him and I know he cares about me," Brown said.
Woodson made headlines during negotiations when he fired agent Joe Glass and signed with Terry Prince of Creative Artists Agency. CAA has several ties to the Knicks, representing Carmelo Anthony, J.R. Smith, Mark Warkentein and Allan Houston.
The Garden reportedly pressured Woodson to fire Glass because of its past history with the veteran agent. Glass represented Brown and worked with Brown to get the $18.5 million settlement after he was fired.
A Woodson source said earlier this week that he felt it was best for negotiations to sever ties, but he still cares about Glass.
Woodson denied that the Garden had any influence in his decision to dump Glass.
Brown wasn't interested in delving into the Glass issue or talking much about his messy tenure in New York.
"That's over with," Brown said. "Woody's there. (Ex-president and GM) Donnie (Walsh) brought it back and Woody has the chance to do something special because I think everything's in place.
"I'm not looking back on it," Brown added. "I'm only looking forward. And I don't want anything about my relationship (with Dolan and the Knicks) to affect Woody at all. I did tell him to go there. ... Dolan is a man that wants to win. The fans need a great team and they got a guy that I love, so I'm OK. "
You can follow Ian Begley on Twitter.