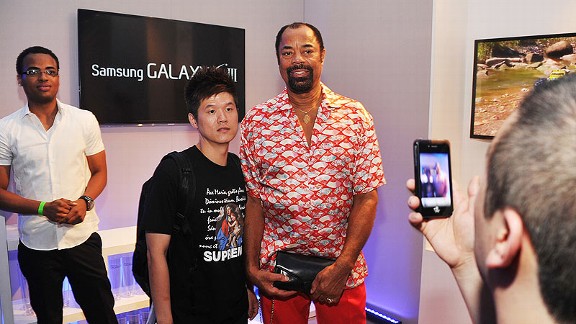 Samsung Mobile US
Walt Frazier would like to see Carmelo Anthony become more of a complete player.I caught up with Knicks legend and MSG Network analyst Walt Frazier on Wednesday.
We touched upon a number of topics, on and off the court. Here are some highlights, with Clyde being his usual openly realistic and rhyme-minded self:
On what the Knicks need: "A veteran point guard. Hopefully we can also get a steal in the draft. We got one in Landry (Fields) and (Josh) Harrellson."
On Carmelo Anthony: "He needs to score, but he also needs to become more of a complete player. Look at LeBron (James) in the Finals. Melo needs to pass the ball better and get his teammates more involved."
On Amare Stoudemire: "I cut him some slack last year. I know his older brother, (Hazell), passed away. But this needs to be a big year for him. He shouldn't train so hard in the offseason, and before games he shouldn't shoot so much. He works hard, but he needs to rest a little. Save his body."
On the NBA Finals: "I first thought the Spurs would do it, then I thought Oklahoma (City) would do it. I mean, they're young. This is why I picked them over the Spurs, but now not the way they're playing against the Heat. A very erratic (Russell) Westbrook. I thought their big guys were ready to take over, (Serge) Ibaka and (Kendrick) Perkins, but they've vanished -- even (James) Harden."
On his new New York City restaurant, Clyde Frazier's Wine and Dine: "It's taking up a lot of my time right now. It's coming. We've been open about two months. It's sort of like a sports bar. Steaks, seafood, chicken, salads. We've been getting rave reviews. My favorite is the grilled salmon with broccoli or asparagus. ... I haven't even been to St. Croix yet (where he does real estate during the summer). I've been enjoying it, man. It's a new challenge being a restaurateur." (Frazier will be at his restaurant Thursday night for Game 5 of the Finals.)
On smartphones (Frazier was making an appearance at a launch event for the upcoming Samsung Galaxy S III smartphone): "(Samsung) didn't know I was a novice, and this is something that I really needed. I've had the phone a couple of days and I see how people use it. That's one of my pet peeves; people on computers all the time. I even Googled myself to see about my restaurant and what the critics were saying. It's amazing how much stuff there is. I was like, 'All this is me?' ... Having this phone is a quantum leap (laughs). I jumped in. My flip phone is history."
On Twitter: "Usually I give it to my son, though, but I give him the rhymes. Now I'm able to do it myself, which is even better. I don't have to depend on him as much. I kind of felt left out. I was fighting it, but I realized I gotta do it, man. You don't have to be hooked; I don't want to get hooked on it. But it's a necessity to communicate."
On what fans can expect next with his new smartphone: "Textin' and vextin' (laughs).
You can follow Jared Zwerling on Twitter.