WHAT IT MEANS: The Raptors have reached a verbal agreement with Knicks restricted free agent Landry Fields on an offer sheet, sources with knowledge of the deal told ESPN.com's Marc Stein. Sources say Fields will sign a three-year offer approaching $20 million. He cannot sign until July 11, the first day NBA players can sign new contracts.
WHAT'S NEXT: Once Fields signs, the Knicks will have three days to match the offer. Knicks GM Glen Grunwald said on the night of the draft that his priority in free agency would be re-signing Fields, Jeremy Lin, Steve Novak and J.R. Smith. But the amount of Fields' offer sheet, roughly $6.7 million per season, is likely not what the Knicks planned to spend.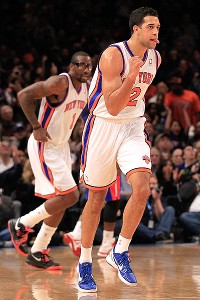 Chris Trotman/Getty Images
Landry Fields has averaged 9.3 points and 5.4 rebounds during
his two-year career.
Ever since the Carmelo Anthony trade in February 2011, Fields hasn't been the same player because the ball stopped more and he couldn't adjust well to creating more opportunities for himself. Not only did his scoring and rebounding numbers drop, but his 3-point percentage sunk from 39.3 percent in his rookie season to 25.6 in 2011-12.
Fields is mostly an intangibles player who thrives more than others off the ball, in transition and when ball movement is working well. The Raptors play at a faster half-court pace with DeMar DeRozan on the wing and Andrea Bargnani scoring off high pick-and-rolls. They also just drafted elite athlete Terrence Ross. If they land Steve Nash, Fields should thrive in that system more so than in New York -- where he still can be valuable, but the offense would have to become more team-oriented for him to make his mark again.
Of course, money speaks volumes for young players looking to earn their stripes -- and about $20 million over three years, especially for a guy who's coming off a down season, is a pleasant surprise. Why not be interested?
It will be curious to see not only what the Knicks decide to do but what Lin does as well. Lin and Fields are friends -- who doesn't remember their pregame handshake?
You can follow Jared Zwerling on Twitter.