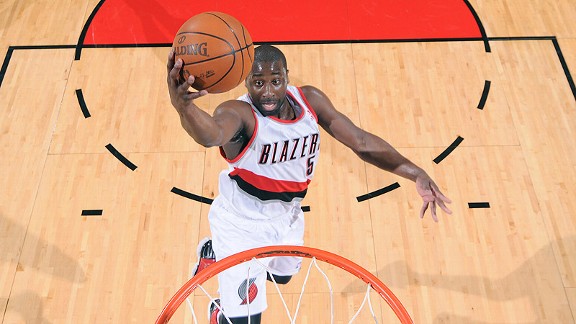 Sam Forencich/NBAE/Getty Images
Baron Davis is out for a year, Mike Bibby appears to be a distant memory and Steve Nash, the team's prized point guard target, is now heading to Los Angeles.
So now what?
While Jeremy Lin is a near-lock to return to the Knicks (they can match the highest backloaded offer he can receive at four years, $40 million), point guard remains the weakest position on their depth chart.
The Knicks have been in the market for a veteran floor general because they want someone who not only has playoff experience and can still play, but who could also serve as a mentor to Lin. That's why Andre Miller, Jason Kidd and Raymond Felton were considered. But now just Felton remains because Miller is back in Denver and Kidd will re-sign with the Mavericks.

But is Felton really the answer? Responding to how the former Knick would love to return to the team, one agent said, with a slight laugh, "Of course, he lost value." After playing at an All-Star level in 2010-11 with the Knicks, averaging 17.1 points and 9.0 assists per game, his numbers dipped to 11.4 and 6.5 this past season with the Trail Blazers.
Weight issues have plagued Felton previously, so if he does become a Knick (the favorites to land him) Mike Woodson will have to get on him about that -- just like he did with Carmelo Anthony & Co. after the season. Now, Melo is 12 pounds lighter. According to Steve Novak, Woody is hosting running sessions at the Knicks' training facility a few weeks prior to training camp kicking off in early September. If Felton becomes a Knick, that should help him.
Here are a four other point guard candidates, keeping in mind that Lin will likely be the starter come opening night:
Mike James -- True story: A couple of days before Lin's breakthrough game on Feb. 4 against the Nets at the Garden, James was playing for the Knicks' D-League team, the Erie BayHawks. The Knicks' director of pro personnel, Mark Warkentien, flew to Los Angeles to watch James play and liked what he saw. The Knicks were prepared to sign James, but then Lin went for 25 points and seven assists, and played spectacularly once again on Feb. 6 against the Jazz in his first NBA start (28 points and eight assists). While that was the end of James then, he would now be a serviceable backup or third-string point guard in New York. He would be a great bargain as well because he's only seeking the veteran's minimum.
John Lucas III -- Lucas III, who played with the Bulls last season, has received interest from six teams, including the Knicks. GM Glen Grunwald's phone call was more of a feeler, and that's because the Knicks' priority has been to land a seasoned point guard to mentor Lin. But they would be open to a younger backup -- and that's exactly the role Lucas III excelled in last year, playing behind Derrick Rose and C.J. Watson. And it's a role he would be open to again this coming season, although he wants to get more consistent minutes this time around.
In New York, he would get them. Lucas III, an unrestricted free agent, has received offers from the Bulls but they're mostly minimum deals. (The Bulls are known to be a conservative team that wants to avoid the luxury tax.) While the Knicks have minimum contracts available, they do have a midlevel exception of $3.09 million, which is what Lucas III is seeking because he knows that last year the average salary for a backup point guard was $3.24 million. And he feels he's worth that kind of money.
Ramon Sessions -- Now that Nash is a Laker, Sessions wants out of L.A. because he wants to play a bigger role with a team. His preference would be to start, but those jobs are filling up fast -- and that will likely be Lin's role. However, if he came to New York, he would be one of the most valuable backups in the league. While Sessions is not a great passer and a defensive liability, he's an efficient point guard who does a little bit of everything. The Knicks have not expressed interest yet, according to his agent, but that could change soon with the hunt for point guards now at its most competitive level. Sessions is seeking a multiyear deal at the midlevel exception or higher level.
C.J. Watson -- The Bulls have been noncommittal about Watson's team option of $3.2 million, which they have until July 10 to pick up. From several indications, the Bulls may not do that, as they're interested in Chauncey Billups and Kirk Hinrich. One Bulls beat writer believes the Bulls will eventually let him walk, and if that happens, he should be very high on the Knicks' radar. In fact, he should be the highest on their list because in addition to his point guard skills, he's the best 3-point shooter out of this bunch. He played very well in D-Rose's absence toward the end of last season. From the Knicks' standpoint, their priority is likely Felton, but Watson is someone they should closely monitor.
Three outside shots could be Keyon Dooling, Marquis Daniels and Terrence Williams, who could likely be veteran's minimum pickups.
You can follow Jared Zwerling on Twitter.