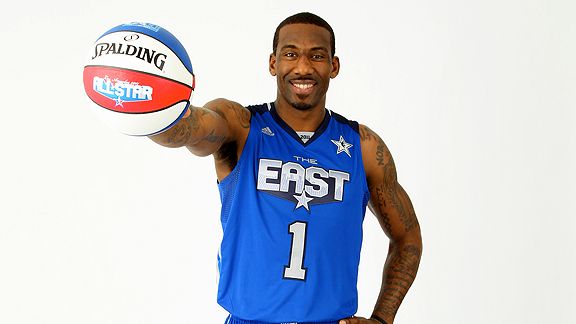 Nathaniel S. Butler/NBAE/Getty Images
A five-time All-Star in the West, Amare Stoudemire finally gets to don an East uniform.Knicks All-Stars

All-Star Game coverage »
Amare Stoudemire will be the first Knick to start in the NBA All-Star Game since Patrick Ewing in 1992.
The game will be played Feb. 20 in Los Angeles.
The NBA announced the starting lineups, as determined by fan voting, on Thursday night.
Eastern Conference starters:
• Forward: LeBron James, Miami
• Forward: Amare Stoudemire, New York
• Center: Dwight Howard, Orlando
• Guard: Derrick Rose, Chicago
• Guard: Dwyane Wade, Miami
Western Conference starters:
• Forward: Kevin Durant, Oklahoma City
• Forward: Carmelo Anthony, Denver
• Center: Yao Ming, Houston
• Guard: Chris Paul, New Orleans
• Guard: Kobe Bryant, Los Angeles Lakers
Yao is injured and will not play. West coach Gregg Popovich will choose Yao's replacement in the starting lineup.
All-Star reserves will be announced next Thursday. Knicks point guard Raymond Felton is averaging 17.5 points and 8.9 assists per game; the Knicks haven't sent two All-Stars to the game since Allan Houston and Latrell Sprewell in 2001.