Starting with Team USA's first practice in London and going through the medal rounds, NBA Defensive Player of the Year Tyson Chandler will give fans insights into his overseas experiences a couple of times per week through his exclusive Olympic diary with ESPNNewYork.com.
Here's Tyson's first entry:
GETTING SETTLED
Hey everyone, we just landed in London late Thursday morning, and we're just all getting excited about winning the gold medal again. We had a team meeting in the early afternoon on Thursday, and we'll be having our first practice on Saturday at the University of East London. It's about an hour and a half, two-hour drive to get to practice from the hotel.
I absolutely can't wait to take in the sights and sounds of London. I'm really looking forward to seeing a lot of the fashion out here. The fashion is definitely different, but it's nice though. It has a big European influence. I can't describe it yet because I haven't been around it too much. I just got here.
In addition, I'm looking forward to seeing the different architecture and what the city has to offer. Being that I'm a big art guy, I'm going to find out the art districts and the creative areas, so I can go through it to see the creative vibe in London. As far as the Olympics go, I'm obviously excited to check out the different Olympic activities besides basketball.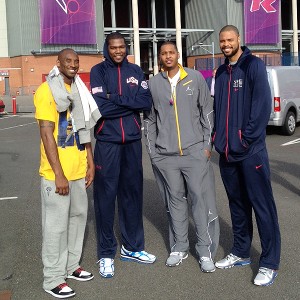 Courtesy of Tyson Chandler
From left to right: Kobe Bryant, Kevin Durant, Carmelo Anthony and Tyson pose in Barcelona.
My kids, Sacha-Marie, 6, Tyson Cleotis II, 3, and Sayge, 1, just landed on Thursday, so I'm really looking forward to hanging with them. My wife, Kimberly, has been with me since Barcelona. It's just great to have the support of your family when you go on a long trip like this because I'm away from them during the NBA season. In the summertime, it's normally family time, so I'm just happy that they're able to experience this with me.
OLYMPIC ADJUSTMENTS
It feels great to be a part of my first Olympics. It's such a great experience and winning games as a team. You have to be a student of the game, though. It's different, especially because I'm the starting center with Dwight Howard out. But you have to make sure you always prepare correctly. Regardless of the role that I was playing, I always prepare, because I would've felt like I would've been cheating my country if I did otherwise.
A big part of that preparation involved working with former Knick Kiki Vandeweghe before the Olympics. He really helped me out with my footwork, jumpshot, being aggressive and a lot of mental things. It was really good for me. I always play up-tempo and fast, so I worked with him on slowing it down and making an impact on offense as much as I do on defense. I've had a relationship with Kiki for my entire career, and he's always been around -- even when he was with different teams. He lives maybe 15, 20 minutes from me in California in the summertime, so it's a great connection.
My role on the team is not to score in the low post. While I may be working on down-low moves with Hakeem Olajuwon in Houston in late August, along with Amare Stoudemire, you won't see me doing those with this team. With all the scorers here, I need to set picks, rebound and play defense. I'll save that for the Knicks. I have LeBron James, Kobe Bryant, Kevin Durant and Chris Paul on the perimeter, and they change the game.
TEAM BONDING
Playing on the world's stage, I'm really close to the team. No one knew what to expect coming here and no one knew if we were going to click. I played with the 2010 FIBA World Championship team, and one thing I will say is everybody's jelled. It's amazing how it's just really been a couple of weeks with this team, but I'm close with everybody.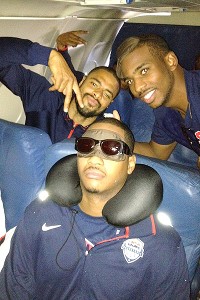 Courtesy of Tyson Chandler
"Weekend at Bernie's" with Carmelo Anthony, as Tyson and Chris Paul call the moment, on Team USA's flight to London.
I'm definitely learning a lot from my teammates. Great players have such a high basketball IQ, so you learn things just from playing on the court. There are a lot of great communicators out here, so we kind of pick each other's brains. We kind of coach each other on the floor.
For me, it's so surreal to be surrounded by these guys, but I sense it more in practice than the games. In the games, you're focused on the plays and making sure you're doing things right and what we have to do. But in practice, sometimes I'll just go, "Wow." In the games, you don't really think about it. In practice sometimes, you look to your left, to your right, and you can't believe the talent on one team.
We were laughing and joking about it the other day that if we were on the same team, how many games would we lose. The most everybody said was "two." Even if you're having an off night, there's someone else right there to help you out.
We've had some funny moments, too. When we first landed in Manchester earlier this week to play Great Britain, we put the rookie, Anthony Davis, in timeout. We made him face a wall in the city. It was so funny. We finally had a chance to make fun of the No. 1 pick. There's been no planking yet, just a lot of joking -- like when we took a picture of Carmelo Anthony sleeping on the plane ride to London. We called it "Weekend at Bernie's."
The players got on me, too. Obviously they killed me the first day ESPN The Magazine's "The Body Issue" came out when they saw it. But I get good reactions, especially from fans who want me to sign the issue.
Stay tuned for my next entry! In the meantime, you can follow me on Twitter @TysonChandler and check out my website TysonChandler.com.
You can follow Jared Zwerling on Twitter.