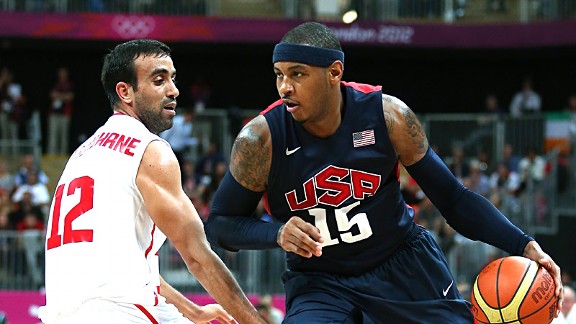 Ezra Shaw/Getty Images
Carmelo Anthony had a big game for Team USA on Tuesday against Tunisia.If Carmelo Anthony plays in Orange and Blue like he did in Red, White and Blue on Tuesday, the Knicks should be in good shape this coming year.
Anthony poured in 16 points on 6-for-6 shooting in just 12 minutes, and keyed a game-changing run early in the second half in the United States' 110-63 win over Tunisia.
Team USA came out flat early, trailing by one point after eight minutes. At that point, coach Mike Krzyzewski put in a second unit featuring Anthony and Deron Williams, and they started to right the ship.
The Americans put the game away early in the second half with a 21-3 run led by Anthony.
The Knicks star had nine points, two rebounds and a steal during the spurt, which took most of the suspense out of a game made surprisingly close by the underdog Tunisians.
Some betting lines before tipoff had Team USA listed as a 54-point favorite. The Americans outscored the Tunisians 64-30 in the second half, but couldn't quite cover that line.
Thanks in part to Anthony though, they walked off the floor with a relatively easy win.
The United States next plays Nigeria on Thursday.
CHANDLER HURTS HAND: From London to the Lower East Side, hoops fans held their breath Tuesday night when Team USA center Tyson Chandler left the game with a hand injury.
Chandler appeared to hit the back of his hand on the rim while battling a Tunisian player for a rebound with 4:45 to go in the fourth quarter. Chandler was sidelined for the rest of the night, sitting on the bench with a bag of ice on the back of his hand.
He finished the game with six points, six rebounds and a block in 15 minutes.
Just like with the Knicks, Chandler's health is of the utmost importance to Team USA.
With Dwight Howard and Blake Griffin sidelined due to injury, Chandler, Anthony Davis and Kevin Love are the only big men on the national team.
Without Chandler, the U.S. would be handcuffed against a team like Spain, which features plenty of size (Marc Gasol, Pau Gasol and Serge Ibaka).
You can follow Ian Begley on Twitter.