Starting with Team USA's first practice in London and going through the medal rounds, NBA Defensive Player of the Year Tyson Chandler will give fans insights into his overseas experiences a couple of times per week through his exclusive Olympic diary with ESPNNewYork.com.
Here's Tyson's third entry:
MY TEAM
I hear the critics say we lack size, but I don't agree. When you look back at how we were successful in 2008 in Beijing, winning the gold medal, we only had one center, Dwight Howard, and we started Carmelo Anthony at the four. The so-called "lack of size" is non-existent with us. It's interesting because we're seeing teams come at us more physical. They have to a tendency to do that because they can't beat us with speed or anything like that because we have the best athletes in the world. So they're trying to slow the game up.
We're playing against a lot of fellow NBA players, but when they're playing for their country, they're not the same players. Even though they're great players in our league, they become even better players for their own country because they have the confidence in their team and they're featured much more in the offense. They're also playing by the rules that they're accustomed to. I can't speak other languages, so I can't understand what they're saying on the court, but sometimes I do. Of course, you only learn the bad words when you grow up playing.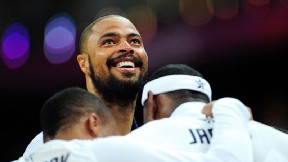 Mike Hewitt/Getty Images
Tyson Chandler says Team USA is a funny collaboration of different types of guys.
Overall, I think Spain is our toughest opponent. Everybody is saying they're a great opponent, and I agree, but there's been a lot of good teams. On any given night, anybody can be beat. We're looking at the teams that are in our pool play first -- Argentina, France, Lithuania, Nigeria and Tunisia -- and then we'll go from there. We face our last pool opponent, Lithuania, on Saturday, and then see Argentina again on Monday. After that, it's on to the quarterfinals.
THE CREW
It's a funny collaboration of a lot of different guys, and it's been great. The team camaraderie has been amazing. Here's my take on each of my teammates:
Andre Iguodala: You always have to pay attention to him because he has this thing where he likes to tap people on the opposite shoulder and make you turn around and not know it's him.
Kevin Love: He's like the sarcastic jokester.
LeBron James: He's like a prankster, jokester and keeps everybody calm and at ease.
Anthony Davis: He's the rook, the baby of the crew, the little brother.
Russell Westbrook: He's the outgoing one.
Kevin Durant, Russell Westbrook and James Harden: They're like the cousins that come from out of town. They have all these things and inside jokes, which now we're all a part of.
Kobe Bryant: He's the intense big brother.
Carmelo Anthony: He's funny and very outgoing. Sometimes the media gives him some flak, but he never lets it bother him. He's always in a good mood. He's actually the team DJ and he always carries a Boombox. I gave him the nickname Radio Raheem. He keeps the locker room in great spirits.
Deron Williams: He's just like the guy that rolls with anything. He's down for pranks, he's down to be serious. He just flows.
Chris Paul: I played with him in New Orleans, and he's the angry little point guard. The reason why I say that is because after the game against Tunisia, I was like, "Why are you so angry?" He's a true point guard. He makes sure his team is playing the right basketball. He's the epitome of a point guard that you want on your team. When you've got LeBron James on one wing, and Kevin Durant and Kobe Bryant, and you've got guys like Carmelo Anthony coming off the bench, D-Will and Russell Westbrook, you've got to be able to dominate these guys with your personality for them to be able to do what you want. He plays almost like he's the coach on the floor. It's the biggest compliment that I can give him.
Stay tuned for my next entry! In the meantime, you can follow me on Twitter @TysonChandler and check out my website TysonChandler.com.
For Tyson's earlier diary entries, click here.
You can follow Jared Zwerling on Twitter.