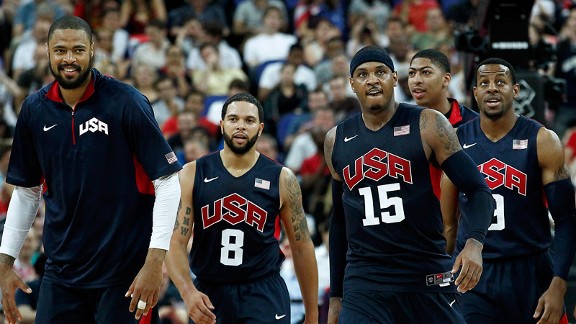 Christophe Elise/Icon SMI
If there was an award for best bench player during the Olympic men's basketball tournament, it would have to go to Carmelo Anthony.
After scoring 17 points in a rout over Australia on Wednesday, Melo dropped in 18 on Friday in another blowout -- this time against Argentina.
Before the game, Argentina guard and NBA All-Star Manu Ginobili basically noted the game was over. He said, "The odds are against us. We have a 10 percent or even a five percent chance of winning, but we are going to fight for this."
While the gritty Argentines kept it close in the first half, exchanging baskets and hitting several 3-pointers, the Americans extended the lead in transition with Chris Paul and LeBron James mainly pushing the ball and creating easy scoring opportunities. Argentina also couldn't keep up with Team USA's speed in the halfcourt and passing around the perimeter to open shooters and cutters.
In addition to Anthony's 18, James also pitched in 18 and Kevin Durant led all scorers with 19. Team USA moves on to the gold-medal game against Spain on Sunday -- a repeat of the 2008 final in Beijing, which the Americans won.
"Anything less than this would have been unsatisfying for us," Anthony said. "We believe that we could get here, and we're here now. We got one game left."
It appeared that Anthony's sore hamstring got the better of him in the first half, as he missed his first three 3-point attempts, but he finished the game 4-for-8 from downtown. Only Durant was better, shooting 5-for-10 from beyond the arc.
Argentine point guard Pablo Prigioni, who's suiting up for the Knicks next season, didn't score a single point, but he dished out a team-high six assists.
You can follow Jared Zwerling on Twitter.