Twelve children enrolled in a East Harlem community center provided some good luck for the Knicks this season.
On Thursday, as part of a summer program initiative, they finished re-creating Madison Square Garden's basketball court in their classroom. Then, a few of them played a 2-on-2 game (with their peers watching and a halftime dance routine) to celebrate their hard work. With two players wearing Knicks shirts and the other two representing the Miami Heat, the blue and orange prevailed 106-91.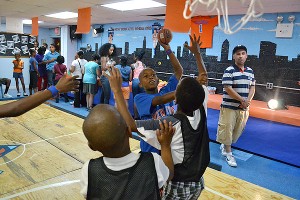 Courtesy of Randy Cruz
After re-creating the Garden in their community classroom, the hard-working kids took to the court.
The development project was organized by East Harlem's Union Settlement Association, which offers different educational programs all year round for children, ages 5 to 11, from low-income multicultural backgrounds and mostly single-parent homes. The programs range from art, music, dance and nature-related (for example, hiking and gardening).
Every summer, the association challenges each group of kids enrolled at the Washington Community Center (98th Street and Third Avenue) to turn their classroom into an exhibit that represents an overall theme. This year, it was historic New York City landmarks, and one of the groups -- led by Randy Cruz, a Senior Activity Specialist who has been working for about five years at the center -- picked the Garden. (The other three groups chose Central Park, The Apollo Theater and the Statue of Liberty).
"It was amazing how some people never went in the Garden and never been around it," Cruz told ESPNNewYork.com. "A lot of times, the kids don't really get out of their neighborhood or their surroundings. Some don't even go outside of East Harlem, so I feel like it's my job to let them know [the Garden] is down there, and hopefully one day their parents can take them."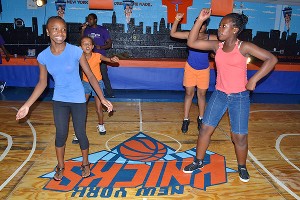 Courtesy of Randy Cruz
During their celebratory game on Thursday, several of the students performed a halftime dance routine.
Using plywood from a construction site down the block from the Washington Community Center, Cruz and his team started assembling the basketball court. They painted the wood and drew the floor lines, and one of Cruz's interns painted the actual Knicks logo in the middle. Three weeks later (after working six hours a day, five days a week), the 22-foot-by-16-foot court with six-foot-high hoops was complete.
"The main part was just to get them educated about [the Garden] and they can feel happy and proud that they were a part of this whole thing," said Cruz, who also co-runs the popular Hoops in the Sun summer streetball league in the Bronx. "They loved it, they enjoyed it. They were very energetic to play and they were telling me, 'Randy, this is crazy.' The kids said it was the best project they ever worked on and felt like a real court to play on. From an adult, parent and staff standpoint, they loved it, too."
You can follow Jared Zwerling on Twitter.