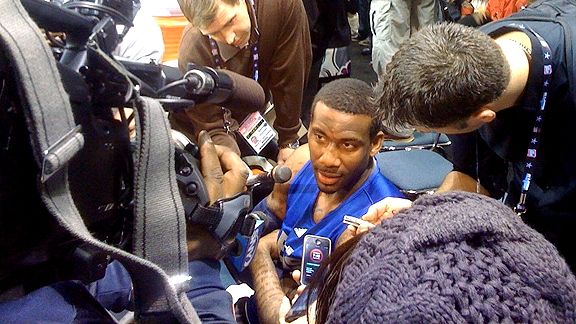 Jared Zwerling/ESPNNewYork.com
Amare Stoudemire has embraced all the events surrounding All-Star Weekend.
Dogged by questions about Carmelo Anthony since he arrived in Los Angeles, I figured I'd give Amare Stoudemire a breather and see how he was enjoying All-Star Weekend. I caught up with him after the East and West teams practiced this afternoon at the LA Convention Center.
On how he's taking it all in: "It's going great, man. This is my sixth [All-Star appearance] and it never gets old. It's a lot of fun. You see all the legends and you see the active players. It's always fun to be a part of it, so any time you get a chance to really enjoy the camaraderie of the team and the players, it's always good."
On what we can expect from tomorrow's All-Star Game: "I'm pretty sure that there'll be something out there that the guys are going to show up and do some outrageous plays. They're such incredible athletes."
On his favorite things to do in LA: "Oh, man. Shopping and restaurants are always key. You can never overlook that, and also the beach. The beach is great; that's what makes LA, LA."
On coaching Landry Fields yesterday in the Rookie Challenge: "It was great. Landry had a phenomenal game; he played well. It was a lot of fun for him because it's a new experience for him, and to play in the rookie-sophomore game, it's a good accomplishment for him."
On what most impresses him about Fields: "He definitely works. He puts in the time in the weight room and on the basketball court to really keep himself in shape, so it shows."
Before Celtics head coach Doc Rivers had to run to make a golf tee time, I asked him about having Stoudemire as a player. "I've seen him for a long time," Rivers said. "I watched a ton of Amare Stoudemire's high school games, so I've known him for a long time, and it'll be fun to coach him. He's a remarkable shooter for his size."
I also spoke with Spurs power forward Tim Duncan to get his thoughts on facing Stoudemire for the first time in the All-Star Game, now that STAT's in the Eastern Conference. "We've played the [Knicks] twice this year so far," Duncan said, "so I've gotten my fair share of him. Obviously he played out west for a long time and I got enough of him there too. He's a heck of a player and he's a heck of an athlete, and he's always a hard one to go against."
You can follow Jared Zwerling on Twitter.