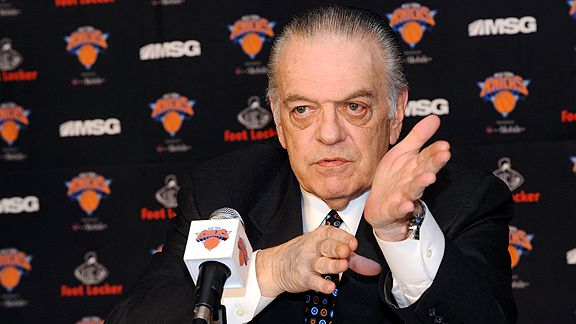 The following is a partial transcript of my interview with New York Knicks president Donnie Walsh on the state of the franchise.
For more, see my column on how Walsh plans to approach the summer of 2010 and the next five years.
Sheridan: It was said you'd have a two-year honeymoon when you got here. But the critics are beginning to chirp, and the pressure to make this work is rising. Does it feel to you like the honeymoon is over?
Walsh: I never expected a honeymoon the minute I decided to go the way we're going I knew the first two years were going to be really rough. I was asked: Do you think New York can rebuild, and I said we're going to find out because of what we're going to do. There might not be the appetite for it, we'll see.
You have to go through pain to rebuild a team, and we're going through pain. It takes time. If you look at some of these teams that are up at the top, look back 4-5 years and see where they were. They had to go through the same kind of period. I had always been told that New York didn't want to go through that, so we'll find out. I'm not sure.
Sheridan: Speaking to folks on the street, which way do those comments run?
Walsh: I haven't had any really bad experiences. I'm not saying everybody who walks into me agrees with what I'm doing, but they all give me "good luck" and that stuff.
Sheridan: Any one random encounter stand out?
Walsh: The [Zach] Randolph trade, in my mind. It was a cap trade, and my experience has been that fans don't understand cap trades. And we had a game that night, and so I went to the arena that night thinking that there's no way to explain it to the people and the press in some ways without talking about the cap, and my experience had been that people didn't quite get the cap. They just said 'It wasn't a good trade, they didn't want to know about the cap.'
But when I got to the arena that night everybody seemed to know why I did it. It surprised me, it really surprised me.
Sheridan: How have the past two years been for you personally?
Walsh: It's not enjoyable to lose. I hate it. I didn't have to do a whole lot of it in the last 20 years, and I knew it was going to be like being dragged over coals, and that's the way it's been, and probably worse for Mike because he's coaching and he's minute to minute with it every day. So I don't like losing at all, I go home at night and that's all I think about.
I worry about what the future is going to bring, because the one thing I really wanted when I came here is to get it back close to where it was when Ewing and those guys were playing. That was as good of a thing as I've ever seen.
Sheridan: Are you satisfied with what you've done?
Walsh: Just from a cap standpoint. I wanted to see if we could make the team a playoff contending team for these two years, and we weren't able to do that. I think we were more competitive game to game, but as far as the playoffs, we weren't in, and that disappointed me. I mean I was in the playoffs 16 out of 17 years, so this is a withdrawal, I'll tell you that.
Sheridan: Is this the biggest gamble of your career, and can it be compared to your decision to pull Ron Artest off the team and announce you planned to trade him, knowing that would reduce what teams would offer in return?
Walsh: I don't know. I don't look at it in terms of I'm taking a big risk personally. I tried to do what I thought was the best thing to do for this franchise at the time I came in here.
If there were trades out there, or there was a way you could build this in the draft in a hurry, then maybe I would have chosen that, but there wasn't. So this, to me, was the best way to do it.
And I understand why people haven't done this before, because it's a very tough decision to make in an area like New York. But there's no understanding, or 'I know what I'm doing' as far as specifics. No. We're like the rest of the world. We have to go in there and try to get the best players we can.
Sheridan: Do you think the signings will happen quickly leaguewide, like before July 14?
Walsh: You'll know a lot in those two weeks, You'll know everything.
Sheridan: Are you feeling more anxiety or excitement heading to July 1?
Walsh: Excitement, because it's an opportunity that we've paid for over the past two years.
I did make the playoffs my first year in Indiana, but I didn't make it the next two years, and that was difficult. I mean I died every day. Then when you get up to a certain point and you want to go further in the playoffs and you get knocked out, you die with that, and you try to improve the team. That's how I feel now, but I feel we have an opportunity. We want to make the best of it, we want it to work.
Sheridan: If you wanted to say something, a message of hope or encouragement to the New York fans, what would it be?
Walsh: We've put ourselves in position to improve, maybe quickly. We'll see. I think we're in a better position than we were two years ago when the team wasn't winning and you really couldn't do anything.