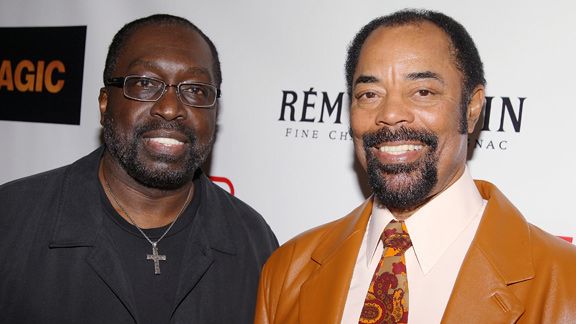 Stephen Lovekin/Getty Images
Earl Monroe (left) and Clyde Frazier formed a superstar tandem in the early '70s.When Carmelo Anthony was traded to the Knicks, one of the first questions was: What jersey number would he wear? That's because his No. 15 was retired in honor of Earl Monroe and Dick McGuire, and the No. 22 that Anthony wore in high school was retired for Dave DeBusschere.
After Anthony met with the New York media for the first time, Monroe gave him the green light to wear his number -- with one caveat. "He talked to me on the podium after the press conference and I told him I'm fine with it, but he'd have to ask [McGuire's family]," Monroe told the New York Post. "Fifteen, it's just a number to me. I'd be honored if he wore it."
The decision, of course, belongs to the Knicks, not Monroe or the McGuire family. Melo went with No. 7 to honor his son's March 7 birthday; seven is also the difference when subtracting 15 from 22.
The way Monroe talks about what's on the jersey, he sounds more concerned with the two words stitched on the front: "New York." While Melo is one of the game's best offensive players, Monroe admits he has his work cut out for him to bring a championship to the city. If he does, Anthony would join Monroe and DeBusschere, who both won titles in the 1970s, among the greatest Knicks players who came to New York in a trade.
On a recent morning after the Melo acquisition and Jared Jeffries signing, I sat down with "Earl the Pearl" over breakfast to chat about many things, including the Knicks. Here's Part 1 on the 'Bockers:
What are your thoughts on the new-look Knicks?
I think that any time you're able to get a guy like Carmelo Anthony to be on your team, you're going to be a step up. That's where I think we're going to be able to foster a good relationship and be able to get some other guys to come in because the most important thing is not just having the guys they have. They're going to need to be able to attract more guys in who will at least be able to rebound and play defense.
Interesting similarities: Carmelo teams up with another star in Amare Stoudemire, and back in 1971, you joined a star in Walt "Clyde" Frazier. Anything you see in common?
I guess the only similarity is really that we were in New York [laughs]. When I came, this was a winning team that had just come off winning a championship and so forth and so on. With Carmelo coming, he's looked upon as one of the favorites to try and get back to that promised land. But I think the one thing in common is the fact that we wanted to win. The idea now is to do whatever is necessary to win, so that will be a lot of sacrifice and learning everybody's part so that everybody can feel a part of what this is. What it is, is essentially a team.
What was the adjustment period like for you and Clyde to get on the same page on the court?
It didn't happen quickly. I mean, I wasn't really thrown into the thrust of it all like Carmelo is. Again, it was already an established team with a winning tradition and so forth and so on. So trying to figure it all out where I was at took a while because when you're used to being the "me" guy, now you have to kind of defer a lot of things. It makes it so now you've got to really think about what it is that you're doing, how you're doing it and if it makes sense to do it.
You and Clyde were the coolest ballers on the block. Did you guys ever get into fun little competitions to see who was cooler?
You might try to say, "I wasn't jealous," but there was some competition like, "You do your thing your way, I'll do it my way, we'll see who's better." I'm quite sure that's something that's in everybody's mind as you grow up, even though outwardly you would say, "Oh no, everything's good." But there's always competition, especially when you have people who are competitive.
It's a much different trade world we live in now, and the Carmelo situation proved that. The web provides more rumor mills than one could imagine, which makes it harder to separate facts and speculation. Back then, did you ever have a hunch you would end up in New York or did it happen more quickly?
Yeah, I guess it happened pretty quickly here because I had stopped playing for the Baltimore Bullets and forced them to trade me. But at the same time, I was never thinking it was going to be to New York [laughs].
So how far can the Knicks go now? What are your expectations?
The main thing is just to get in the playoffs and then anything can happen. I'm quite sure they're not looking past yet; they're just trying to get there. You've got Philadelphia hot on their tail; they're a team starting to play pretty well late in the season. Even Indiana's playing pretty good, so it's a matter of just trying to keep focused.
The interview will continue with Parts 2 and 3, where Earl and I discuss the basketball-jazz correlation from his playing days, his upcoming autobiography -- and possible film -- and his involvement with The People's Games, an upcoming basketball event that offers amateur players in New York and Los Angeles the chance to battle for city supremacy. Stay tuned.
You can follow Jared Zwerling on Twitter.