Last night against the Grizzlies, the Knicks donned green uniforms to celebrate St. Patrick's Day and, boy, did that green mean everything. The Knicks were money from downtown, winning big 120-99 and returning to their March 17th winning ways. They're now 4-3 in St. Patty's Day games since 2000. Previous games include: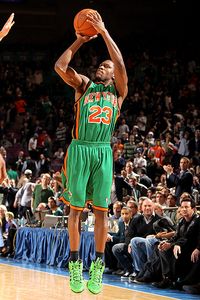 Nathaniel S. Butler/NBAE via Getty Images
Toney Douglas brandishing those bright green kicks against the Grizzlies
2010 -- 109-97 loss vs. Boston
2008 -- 110-98 loss vs. Indiana
2006 -- 105-103 win vs. Detroit
2002 -- 104-99 loss vs. Cleveland
2001 -- 101-80 win vs. Chicago
2000 -- 118-99 win vs. Charlotte
The Knicks couldn't have made history last night, connecting on a franchise-record 20 3-pointers, without Toney Douglas' marksmanship -- and, of course, his green adidas Pro Model sneakers.
"I love that color," Douglas told The Associated Press. "I had two days of practice in them and everybody was like, 'Wow, those are really loud shoes.' They're special shoes now."
Douglas scored 29 points off the bench, thanks to his nine 3s, which tied John Starks and Latrell Sprewell for most in a game by a Knick. Sprewell did it twice and Starks accomplished that feat on January, 29, 1998, against the Bucks. Douglas' backcourt teammate, Chauncey Billups, went for nine in a game once with the Nuggets on February, 5, 2010, against the Lakers.
Here are some other notable stats from Douglas' performance:
He was the third player to hit that mark this season, joining Denver's J.R. Smith (9-of-16 on March 12) and Golden State's Dorell Wright (9-of-12 on November 27).

He was the 45th player in NBA history to make nine or more 3-pointers in a game.

Those 45 players' teams have posted a 31-14 record (.689) in those games.

17 of the 45 players shot 75% or better (Douglas was 9-of-12; 75%).

He was the seventh player listed 6-2 or shorter to make 9+ 3-pointers in a game.
Only 10 players have made 10 or more in a game in NBA history. Kobe Bryant and former Raptor Donyell Marshall share the lead with 12.
You can follow Jared Zwerling on Twitter.