New York City is known for a lot of famous firsts: hip-hop, streetball, Broadway theater, New York-style pizza, the ticker-tape parade, Fifth Avenue as the most expensive shopping street in the world and, yes, even Nathan's Famous and their Hot Dog Eating Contest. You also have to add the first NBA player-named basketball sneaker to that list. That would be Walt Frazier's while he was playing for the Knicks in the 1970s. Since then, many of the 'Bockers big names either had their own signature shoe or a player-edition version of a major model. Here's a look at the top 10 customized kicks in Knicks' history (in chronological order), starting with the one and only Clyde.
WALT FRAZIER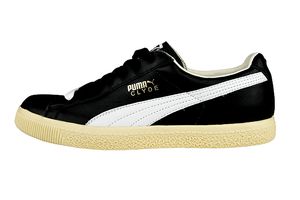 Courtesy of Sole Collector
Puma Clyde
Sneaker Name: Puma Clyde
Release Year: 1973
Puma capitalized on Clyde's celebrity status on and off the court (for his style) and created the Puma Clyde in 1973, which was a custom-tailored version of the popular Puma Suede that featured special "Clyde" embroidery. It proved to be a good-luck charm, as Frazier led the Knicks to the NBA title that year. Since it was re-released in 2005, it has become one of the most re-styled and recognizable shoes. In fact, in 2006 Puma created a worldwide gallery tour to showcase the timeless classic from the U.S. to Australia.
PATRICK EWING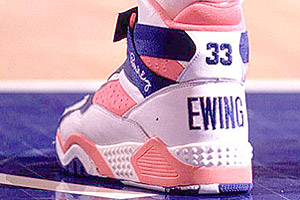 Courtesy of Sole Collector
Patrick Ewing Rogue I
Sneaker Name: Patrick Ewing Rogue I
Release Year: 1992
In his early years, Ewing was endorsed by adidas and wore a sneaker called the Conductor. But after he parted ways with the Three Stripes, he formed his own line of footwear and accessories under the company Ewing Athletics. This featured sneaker was called the Patrick Ewing Rogue I and included these special embroideries: a basketball on the tongue that included his number "33," the word "Ewing" and his full name in script, the word "Rogue" and his name in script on the outside strap and "33" and "Ewing" on the back.
LATRELL SPREWELL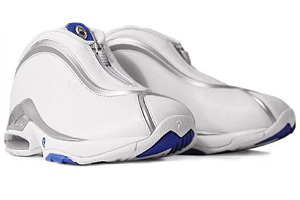 Courtesy of Sole Collector
And1 Spree
Sneaker Name: And1 Spree
Release Year: 2002
Following Sprewell's choking incident with Warriors coach P.J. Carlesimo in 1997, Converse ended its relationship with the volatile player. But two years later, while proving he was a changed man during the Knicks' 1999 Finals campaign, And1 signed him as an endorser. His first signature sneaker, the And1 Spree, which had the acronym "ABS" on the outsole (meaning anti-lock brakes in the car world, a symbol of his passion), was called at the time "the best hoops shoe that And1 has produced to date" by Sole Collector.
ALLAN HOUSTON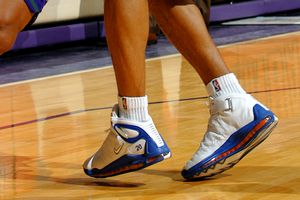 Gary Dineen NBAE/Getty Images
Nike Air Max Elite Allan Houston Player Edition
Sneaker Name: Nike Air Max Elite Allan Houston Player Edition
Release Year: 2002
Houston may not have put up superstar stats, but he was Mr. Consistent (he missed only 10 games in his first seven Knick seasons) with a pure stroke, which cooled off the Heat in the 1999 playoffs. Nike treated him with customized versions of its in-line models, such as the Air Flightposite 1 and Shox Supremacy. This featured one, the Air Max Elite, had two special stitches: "H20" ("H" for Houston and "20" for his number) on the front strap and "20" on the left side.
PENNY HARDAWAY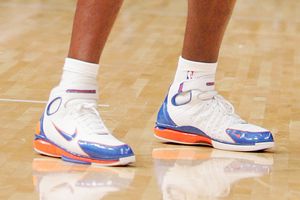 Jim McIsaac/Getty Images
Nike Zoom Huarache 2K4 Penny Hardaway Player Edition
Sneaker Name: Nike Zoom Huarache 2K4 Penny Hardaway Player Edition
Release Year: 2004
Even though Hardaway's Nike signature series ended in 2000 with the Air Max Penny IV, he still received customized versions of its in-line models until he retired in 2008. He wore the Zoom BB, Zoom Flight Turbine and Zoom Huarache 2K5, which all had his classic "1 Cent" logo stitched to the back. This featured one, the Zoom Huarache 2K4, was the first Nike sneaker created for Kobe Bryant in 2004 following his exit from adidas, and it still remains atop many lists for its design and comfort performance.
STEPHON MARBURY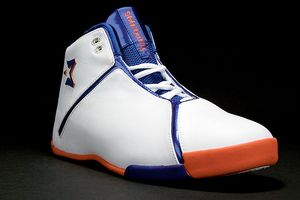 Courtesy of Sole Collector
Starbury One
Sneaker Name: Starbury One
Release Year: 2006
Fans may remember Marbury the most for how he played himself out of New York -- getting into disagreements with Isiah Thomas and Mike D'Antoni -- but they can't forget about his efforts to offer them a very affordable sneaker option. In 2006, Marbury debuted his signature sneaker, the Starbury One, which was sold exclusively for $14.98 at Steve & Barry's. While there were some concerns that the sneaker lacked full support, it still sold well and was praised for its design and heel cushion insert.
WILSON CHANDLER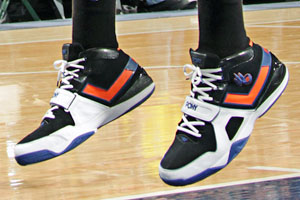 Ron Hoskins/NBAE/Getty Images
Pony UL-38 Wilson Chandler
Sneaker Name: Pony UL-38 Wilson Chandler
Release Year: 2009
Landry Fields, pay close attention. Many considered Chandler to be the steal of his draft class (he was the No. 27 pick in 2007), and he went on to sign an endorsement deal with Pony for the re-launch of its performance basketball line. It included The City Wings '08, Starter '08 and the Quix sneakers. This featured one, the UL-38, which debuted in 2009, was a mid-cut shoe in the Knicks colorway and had "WC" (for Wilson Chandler) embroidered on the outside.
DANILO GALLINARI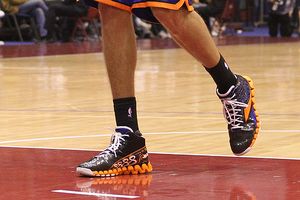 Nathaniel S. Butler/NBAE via Getty Images
Reebok ZigTech Slash Danilo Gallinari Player Edition
Sneaker Name: Reebok ZigTech Slash Danilo Gallinari Player Edition
Release Year: 2010
While the Reebok ZigTech Slash is Wizards rookie John Wall's signature sneaker, Gallinari's player-edition was one of the most personalized pairs in the league. It featured his number "8" on the tongue, "8888" (his Aug. 8, 1988 b-day) and "Milan" (his hometown) on the outside, and his name on the back with a photo below it of a rooster (his nickname) wearing No. 8. After sporting this model during the preseason, he changed to a basic Knicks blue and orange colorway.
AMARE STOUDEMIRE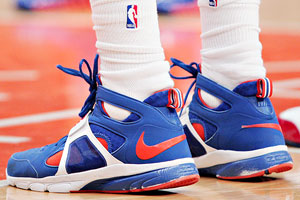 Nicole Sweet/US Presswire
Nike Zoom Huarache Trainer Amare Stoudemire Player Edition
Sneaker Name: Nike Zoom Huarache Trainer Amare Stoudemire Player Edition
Release Year: 2010
In every one of his previous seasons, Stoudemire wore a Nike basketball sneaker, including the Air Force STAT (2005), Air Force 25 (2007), Air Max STAT 360 (2008), Foamposite Lite (2009), Air Max Hyperize and Air Max Fly By (2011 All-Star Game). But this season, STAT is wearing a Nike cross trainer simply because of its comfort -- and he's still playing like an MVP. His player-edition shoes don't have any special stitching, but only he has the blue and orange model, which won't be coming to retail.
CARMELO ANTHONY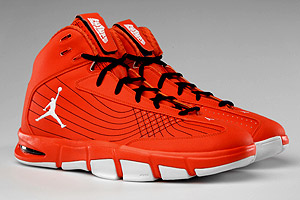 Courtesy of Jordan Brand
Jordan Melo M7
Sneaker Name: Jordan Melo M7
Release Year: 2010
The Jordan Melo M7 is the seventh sneaker in the Melo franchise, designed with insights from Anthony himself. It includes a Max Air unit in the heel and a Nike Zoom unit in the forefoot for a superior combination of impact protection and lightweight, responsive cushioning, ideal for an explosive player like Melo. One of the shoe's versions, pictured here, was designed by a high school student. It features clean stitching, representing the fluidity of Melo's game, and an Infiniti sign that is inscribed with the word "Chelle," in honor of his deceased sister, Michelle.
For a complete list of what all the current Knicks are wearing and their shoe sizes, click here.
You can follow Jared Zwerling on Twitter.