NEW YORK -- The New York Knicks are just 7-10 since Carmelo Anthony arrived in town Feb. 22.
Publicly, Anthony has remained relatively calm during New York's nose dive. But can Anthony truly feel cool and composed as the fan base's impatience grows with each loss?
Yes, he can, according to his wife, La La Vazquez.
"I'm not losing faith or confidence and neither is he," Vasquez said shortly after the Knicks lost to the Magic on Wednesday, falling a game below .500 for the first time since Nov. 27.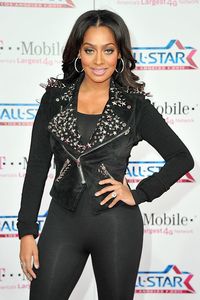 Alberto E. Rodriguez/Getty Images
La La Vazquez and her husband, Carmelo Anthony, were both born in Brooklyn.
New York has lost four straight and seven of its last eight. It is two games behind Philadelphia for sixth place in the Eastern Conference.
Anthony had 22 points and nine assists against Orlando, a sign that he's growing accustomed to the ball movement associated with Mike D'Antoni's offense. Anthony has averaged 24.3 points per game with the Knicks on 44.5 percent shooting.
"I think we have to allow them this time to jell and get it together," Vasquez said. "And then we'll see what happens."
Vasquez added that Anthony has been upbeat throughout the Knicks' struggles.
"It's like anything else: It takes a moment to get into your groove and get it going," she said. "But he's remained positive and that's a good thing."
Anthony said after the loss to the Magic that the Knicks need to "keep scrapping" and "stick together" to break out of their four-game skid. He also said earlier this week that he has "faith" that the Knicks can coalesce in time for the postseason.
But he's had a few hiccups during his 17-game tenure in New York.
Anthony showed frustration when he bolted for the team bus instead of speaking with reporters after scoring just six points in the Knicks' 99-95 loss to the Pistons on Friday. On Sunday, after the Knicks lost to the Bucks, Anthony suggested that the Knicks may not have enough time to get it together for the postseason.
"It might take [until] next season," Anthony said.
"I think it's natural for anyone who is competitive and wants to win to be frustrated when they're not winning," said Vasquez, who will co-star with Anthony in an upcoming VH1 reality series. "But at the end of the day, in time, it's going to all be fine."