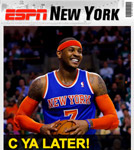 The Knicks deep-sixed the Celtics on Friday night to win their first playoff series since 2000.
How would you sum the win up in just a few words?
Let us know here by creating your own Knicks "Back Page" and sharing them with your friends. You can also vote for your favorite entries.