After Rasheed Wallace retired from the NBA (for the second time) in mid-April, because of a nagging left foot injury, he hung around the team as a player adviser and traveled to road games.
While Mike Woodson, a big supporter of Wallace, seems amiable to keeping Sheed in a similar role, the 38-year-old told ESPNNewYork.com he hasn't decided yet on his Knicks future.
"Right now, I don't know," said Wallace, who will maintain his New York residence during the offseason. "It's still a long summer; it's just getting started. Right now, it's family time -- just being with my kids."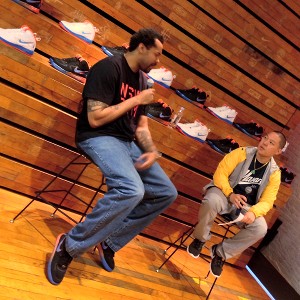 Jared Zwerling
Rasheed Wallace met some of his biggest fans on Wednesday at a sneaker store in New York City.
During the season, Wallace played in 21 games -- mostly in the first six weeks -- helping the Knicks jump out to a 16-5 start while he averaged seven points and four rebounds in 14 minutes. When Wallace was injured the rest of the way, his teammates credited the veteran big man for his defensive lessons and vocal leadership from the sidelines.
Even 35-year-old Kenyon Martin said he learned some things from Wallace, including screening strategies and defensive maneuvering. Also, Chris Copeland said Sheed helped him tremendously on defense and with shooting techniques off of picks.
On Wednesday night, Wallace was at New York City's Nike 21 Mercer store, celebrating the launch of his special Lunar Force 1 High "Sheed" sneaker to commemorate his 16-year career. About 50 fans came out, some wearing Knicks shirts, to show support for the man who popularized the saying "Ball Don't Lie."
Wallace said his time in New York was "awesome," but he had hoped to add more on the court.
"I loved the grittiness of New York," he said. "To hear the crowd when I first stepped on the court just yelling, 'Sheeeeeed,' right there I was like, 'They're with me, they're with me.' I tried to fill in, but that bum-ass foot."
Sheed said his top moment was the entire experience.
"Being a part of everything we did this season," he said. "It was the first time the Knicks won 50 games since the 2000 season, the first time we had a Sixth Man [Award winner] and a scoring leader on the team, so guys really stepped it up this year. It was just unfortunate we couldn't get by Indiana.
"It was an awesome year."
You can follow Jared Zwerling on Twitter.