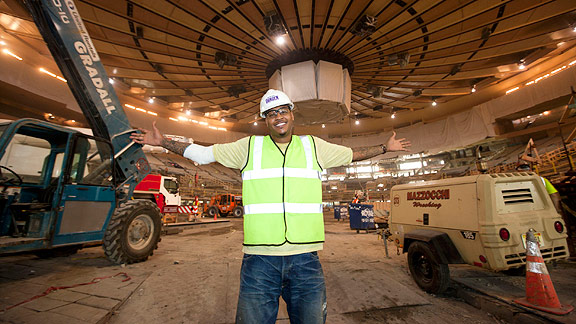 Rebecca Taylor/MSG Photos
Yesterday, Carmelo Anthony stopped by Madison Square Garden before the arena, and the NBA, closed their doors.
As busy as Carmelo Anthony is in the offseason, traveling from city to city, running from event to event, he'll always remember what he did on June 30, 2011.
Yesterday morning, several hours before the NBA officially announced there would be a lockout, Melo visited Madison Square Garden to check out the progress of its transformation. While chatting with and signing autographs for construction workers (there are 1,000 total), he visited the arena floor, concourses and new suites.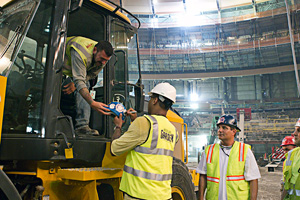 Rebecca Taylor/MSG Photos
Carmelo Anthony signed autographs for construction workers. There are 1,000 total involved with the arena's renovation.
If the Knicks open their season this fall, the lower bowl will be completely renovated, featuring a new lower-bowl seating area, an expanded lower-level concourse with new city views and food and beverage options, new event-level suites and the Delta Sky360 Club, and new locker rooms.
The MSG transformation will continue to be a year-round project, sequenced to maximize construction efforts during the summer months of 2011, 2012, and 2013 when the arena will be shut down. Even if the NBA is still locked out come October, work will be put to bed to make way for the Rangers season.
You can follow Jared Zwerling on Twitter.