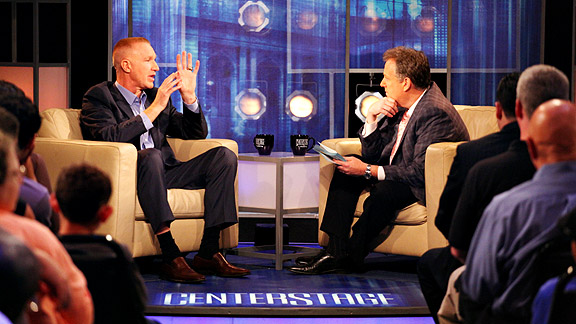 Ellen Wallop/YES Network
Chris Mullin doesn't think we've seen the last of former Knicks executive Donnie Walsh.Newly minted Hall of Famer Chris Mullin believes former Knicks executive Donnie Walsh will be back in an NBA front office someday.
"I think so. He's as good as anyone. I think it's just a matter of if he wants to do it. And what I know of Donnie, he's a worker," Mullin said of the 70-year-old Walsh after Mullin taped a segment on the YES Network's CenterStage with Michael Kay.
Walsh served as president of the Knicks for three seasons but left the organization after he and owner James Dolan could not agree on terms to a contract for the 2011-2012 season.
Mullin's name repeatedly surfaced as a potential GM candidate for the Knicks during Walsh's tenure. Mullin, a former Golden State Warriors executive, said he and Walsh talked about the gig but talks never progressed.
"With Donnie Walsh, that's the guy I consider the right person [to work for] for sure," Mullin said. "[Talks with Walsh about joining the Knicks] really never got that far along."
Walsh is expected to stay with the Knicks as a consultant for this season. But Mullin sees Walsh, who underwent hip surgery during the 2010-2011 season, as a candidate to return to the front office in the future.
"He likes to work. That's part of his makeup. I haven't talked to him about it but if you asked me I would think yeah," said Mullin, the former St. John's star who was inducted into the NBA Hall of Fame last weekend. "He's getting healthy. He was never as bad as people let on to."
Mullin, who was born in and raised in the Flatbush section of Brooklyn and graduated from Xaverian HS, also thinks the NBA is in for a lengthy lockout. He believes the players and owners are far apart on a number of issues, such as a hard salary cap, shared revenue and guaranteed contracts.
"I think you saw what happened with the NFL; they were trying to divide up earnings. Here, they're trying to figure out how to divide up the losses and that's a lot tougher," Mullin told Kay during the CenterStage interview. "The time frame, who knows, but there are some serious issues for sure."